News
Click here for details, and see you on the 18th!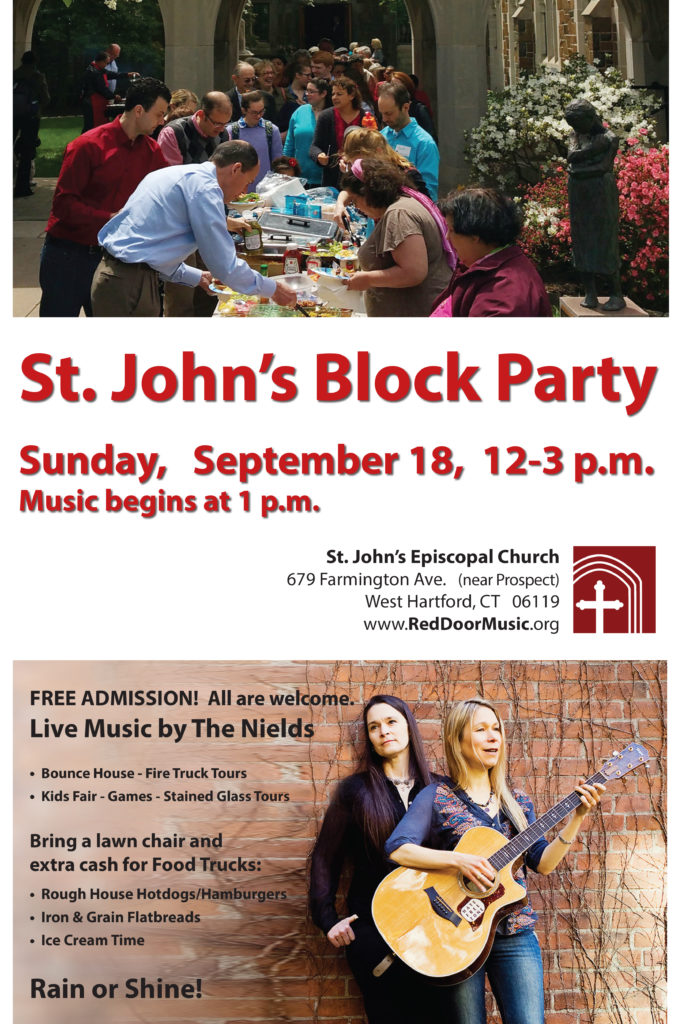 Dear Friends,
With sincere gratitude for a successful current season, I write today to tell you about the upcoming plans for Sacred Music at the Red Door, and to ask you to be part of this great ministry in our community.
We have seen exciting successes during this current season of our music series, most notably the following:
Increased attendance at major events, with audiences of 150-200
Pipes Alive! organ series has drawn surprising groups of 60 or more
Each concert audience is made up of many people new to St. John's
Increased free-will offering donations, averaging $1200
We are truly building a bridge to the community through the music we provide and showing newcomers our welcoming presence in the neighborhood. In addition, and perhaps most importantly, our young choristers continue to have a central role in major concerts, learning and presenting adult-level choral music in a group that is diverse, safe, and fun. One of my greatest joys is watching these children grow into young adults, knowing that these experiences will be part of them forever, and that they will be the future of Anglican choral music.
As you'll see on our website, we are building on those themes for 2016-2017, most notably with the addition of several Choral Evensong services. Through this ancient and beautiful liturgy, our choristers, young and old, will gain a deeper spiritual connection to the music we make, and provide a needed time for attendees to do likewise. In addition, we feature our fabulous pipe organ proudly, and present local artists The Nields and Legacy of Spirituals Gospel Choir in exciting concerts.
Please help us today with your financial support. Become part of the Red Door family today, and if you've been a regular supporter, please consider giving at a higher level to ensure that this important ministry continues growing. You may print our giving form, or give online at www.reddoormusic.org/donate. Thank you for your generosity, and I hope to see you at the Red Door!
In Peace,
Scott Lamlein, Artistic Director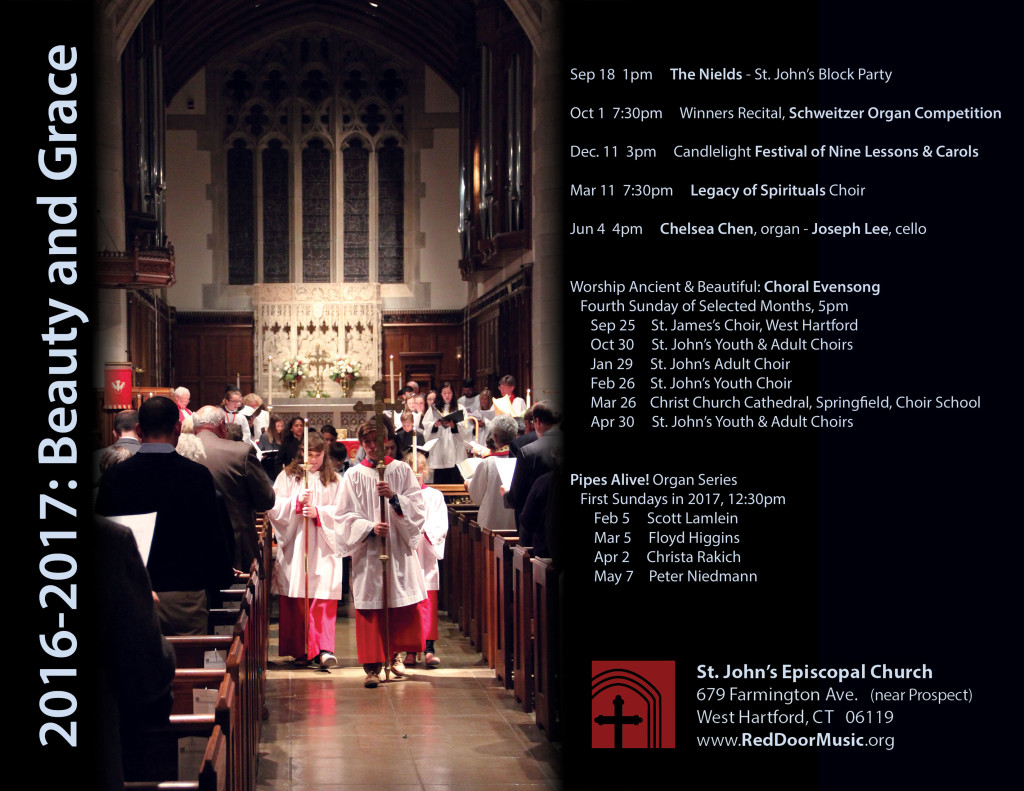 Join us for our very popular Pipes Alive! concerts – first Sunday of each month at 12:30 pm. Organist Vaughn Mauren plays Bach, Howells, and Vierne on March 6: Click here for details.
Check out the St. John's Organ at www.reddoormusic.org/organ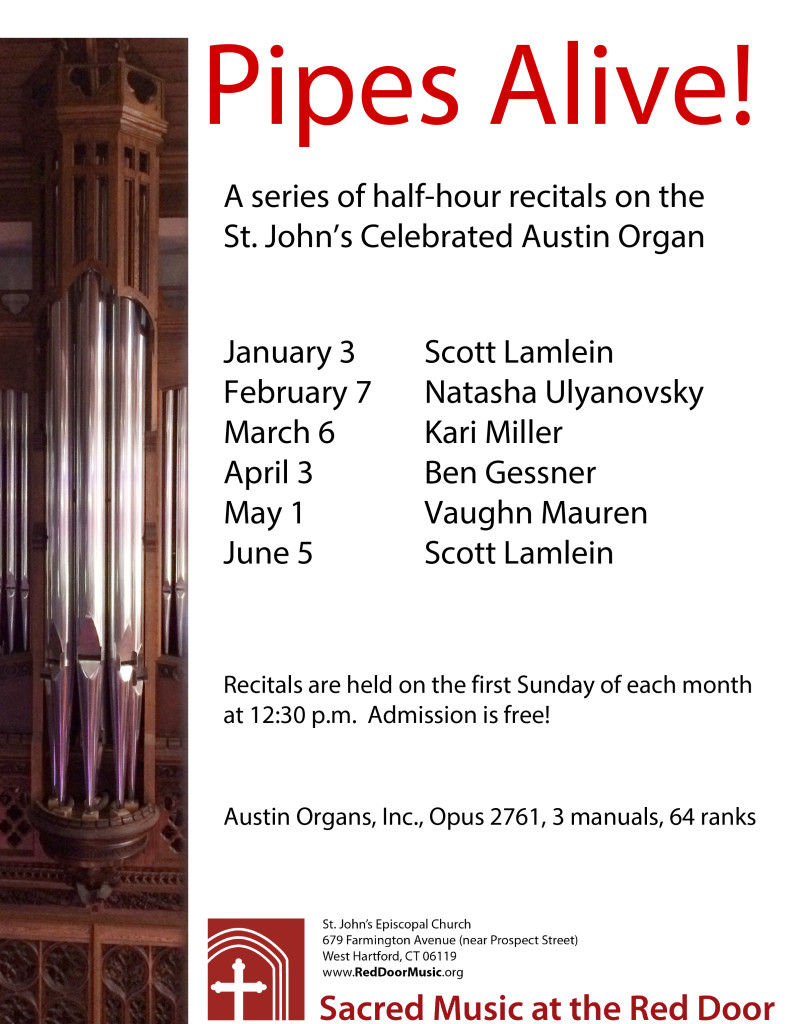 This concert is made possible in part by the Marjorie Jolidon Fund of the Greater Hartford Chapter, American Guild of Organists.
Join Natasha and Max for a unique half-hour concert! Click here for details.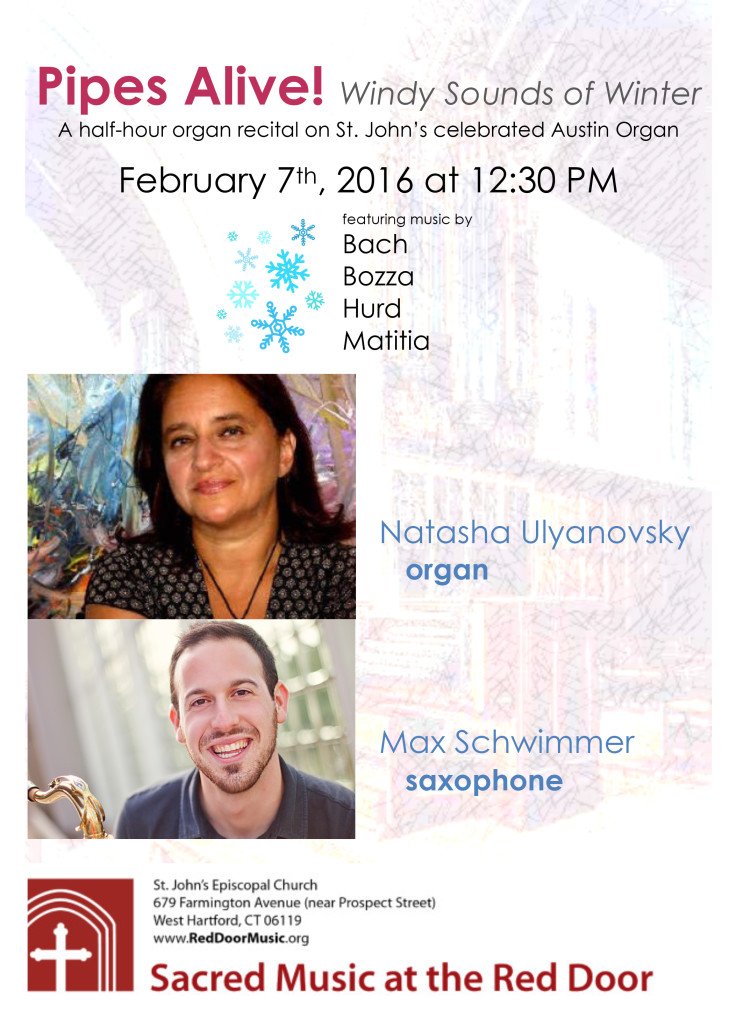 Join us on Sunday for this "bonus" Red Door event! Click here for full details.
St. John's Episcopal Church, 679 Farmington Ave, West Hartford, CT
The Beatles: Band of the Sixties
Explore the music of The Beatles in this 60-minute multimedia presentation (part history and part musical analysis) spanning the full 1960's: beginning with the band's seminal visits to Hamburg, continuing through Beatlemania, and concluding with Abbey Road. The program will be supplemented with audio clips of music and excerpts from interviews with the band members.
2012 University of Hartford graduate Aaron Krerowicz is the United States of America's only full-time professional Beatles scholar. He sang with the St. John's choir from Easter 2011 through June 2015. In the not quite 5 months since his departure from St. John's, he has presented his Beatles research 51 times in 12 different states, including twice in London and thrice in Liverpool. Aaron's first Beatles book,"The Beatles & The Avant-Garde", was published last year; his second, "The Beatles: Band of the Sixties" (based on this presentation), was released as an Amazon Kindle ebook in April; and his third, "From the Shadow of JFK: The Rise of Beatlemania in America", was published in June. All three books will be available for purchase at the conclusion of the program.