What We Do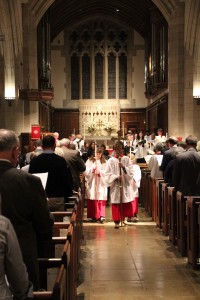 The St. John's Youth Choir is a group of singers that has fun while learning all about music reading, theory, vocal training, and the great sacred choral repertoire, old and new. With the worship of God at our core, we prepare anthems and larger works of music to be presented twice monthly at the 10:30 a.m. service of worship at St. John's Church (which allows continued participation at your own parish). We also sing for Evensong and concerts at St. John's, and for a number of special events at other venues.
St. John's Youth Choir is affiliated with the Royal School of Church Music, an international organization of choirs that sing in the English choir school tradition. Alongside professional and amateur adult singers, we learn adult-level choral music, and we look beyond the words and music to communicate a message.
The music we sing is primarily Anglican traditional choral music, and classic repertoire written from the Middles Ages through the present day. Occasionally we sing music that is Gospel or other styles, but you'll not find a praise band or song leader in this tradition.
Levels of achievement are granted to our singers as they progress in their singing ability and spiritual/musical connection. An increase in stipend accompanies these levels, and older children who have been part of the program for many years are granted leadership roles within the choir.
General Schedule
Wednesdays, every week, alternating between:
5:00-7:30 p.m., with dinner (three times/month)
5:00-6:30 p.m., no dinner, with music theory classes
Sundays, every other week (roughly):
9:00-9:45 a.m. rehearsal
10:30 a.m. service
Special Events 2017-2018
Major Events:
Candlelight Festival of Nine Lessons and Carols
The St. John's Adult and Youth Choirs
Scott Lamlein, choirmaster; Floyd Higgins, organ
In the tradition of King's College, Cambridge, prepare your soul for the Christmas miracle with carols for choir and organ.
Sunday, December 10, 2017, 3:00 p.m.
Choral Music for the Soul: Fauré Requiem
Combined Choirs of St. John's and St. Paul's-on-the-Green, Norwalk
Scott Lamlein and Jacob Street, choirmasters
with organ and chamber orchestra
Saturday, March 10, 2018, 4:00 p.m.
followed by repeat concert at St. Paul's Norwalk, Sunday, March 11, 4:00 p.m.
Choral Evensong
Experience the beautiful, ancient custom of closing the day with graceful readings, prayer and music
Sunday, October 29, 2017, 5:00 p.m.
Sunday, April 29, 2018, 5:00 p.m.
Additional Events:
Choir Camp, Ivoryton, CT, August 6-11, 2017
Albert Schweitzer Organ Festival Choral Eucharist, with St. James's Choir at Trinity College, October 1, 2017, 12:30 p.m.
Christmas at St. John's!
– Annual Christmas Festival caroling, Saturday, December 2, 2017, 10-11:30 a.m.
– Christmas Pageant, Sunday, December 17, 2017
– Christmas Eve Service, December 24, 2017, 4:00 p.m. service
Palm Sunday, Maundy Thursday, Good Friday and Easter Services, March 25 – April 1, 2018
Click here for the full, always-updated, choir calendar. Scroll down for info on how to subscribe to the calendar on your phone or Google account.
Choir Policies and Attendance
Choir rehearsals and services/performances are all part of a technology-free program. Thus, in order to maintain focus and attention, use of phones and other devices is not allowed. Choristers are encouraged to leave phones at home, or in their cubbies; the director will confiscate devices as needed and/or take away choir privileges.
The success of this program and its individual members is contingent upon regular, on-time attendance. Please take it seriously. Unexcused absences result in reduced stipends.
Two weeks notice is required for excused absences. Tardiness counts as ½ an unexcused absence. Plan to arrive 10 minutes early so that you can begin on time (arrival at the appointed time = late).
Occasionally schools or other activities present last-minute conflicts with the choir schedule. It is expected that "choir comes first" in these cases.
If camp is attended, a commitment to the choir of at least one year is expected. St. John's investment in this camp experience encourages building of a serious, solid group, thus it is reserved for serious singers who truly want to be part of the Youth Choir.
Parents are expected to serve as Full Rehearsal "Choir Parent" two to three times per year. This role is very simple, and involves helping to set up and clean up choir dinner, as well as making sure all choir members get picked up by a parent at the conclusion of rehearsal. We are also looking for parents who are willing to cook the dinner on occasion (optional).
Parents are also encouraged to attend occasional rehearsals, and as many services of worship and concerts as possible. Your support of your children in this effort teaches them far more than we can in rehearsal. Come, worship and enjoy. St. John's will not ever pressure you to become a greater part of this community, but those options are always available to you.
Questions? Contact Scott Lamlein here or Read more about Youth Choir Basics and Audition info.

Choir Calendars
YOUTH CHOIR CODE (copy/paste the whole thing, with no extra spaces):
https://solutions.acstechnologies.com/crm/events/158872/youth-choir.ics
ADULT CHOIR CODE (copy/paste the whole thing, with no extra spaces):
https://solutions.acstechnologies.com/crm/events/158872/adult-choir-calendar.ics