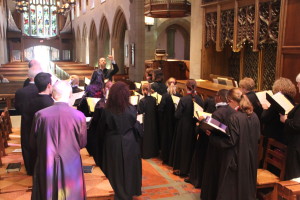 The St. John's Choirs are well-known in the greater Hartford community and beyond as a center of excellence in vocal training and repertoire for children ages 7 1/2 and up. The youth choristers receive a stipend to sing the soprano (treble) line every other Sunday, alongside volunteers and professionals on the other parts, for a flexible performing schedule with the highest standards of musical expression within a safe, supportive, inspiring environment. Affiliated with the Royal School of Church Music, the program focuses on a centuries-old tradition of music composed originally for children's voices alongside adults. The youth also sing on their own periodically and for special occasions. Included are a summer choir camp, choir festivals and collaborations, and the broadening experience of travel. Rehearsals are on Wednesdays, and include a choir dinner twice per month.
We are currently auditioning for the upcoming season – click here to apply today!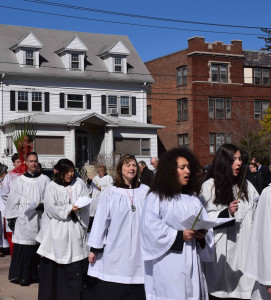 The semi-professional Adult Choir sings every week and is open to experienced choral singers by audition. Inquiries from prospective singers are welcome at any time; no religious affiliation is necessary. Sang in choir in high school and/or college? This might be the group for you! If you're a parent of one of our Youth Choir members, this is a great opportunity to make music together. 
To arrange an audition for our Adult Choir, or to find out more, click here to contact us today.