What We Do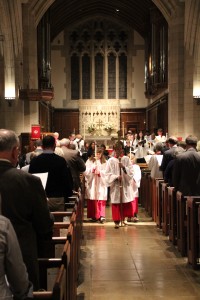 The St. John's Choir School is a group of singers that has fun while learning all about music reading, theory, vocal training, and the great sacred choral repertoire, old and new. With the worship of God at our core, we prepare anthems and larger works of music to be presented twice monthly at the 10:30 a.m. service of worship at St. John's Church (which allows continued participation at your own parish). We also sing for Evensong and concerts at St. John's, and for a number of special events at other venues.
St. John's Choir School is affiliated with the Royal School of Church Music, an international organization of choirs that sing in the English choir school tradition. Alongside professional and amateur adult singers, we learn adult-level choral music, and we look beyond the words and music to communicate a message.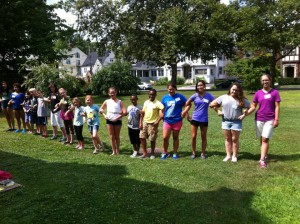 The music we sing is primarily Anglican traditional choral music, and classic repertoire written from the Middles Ages through the present day. Occasionally we sing music that is Gospel or other styles, but you'll not find a praise band or song leader in this tradition.
Levels of achievement are granted to our singers as they progress in their singing ability and spiritual/musical connection. An increase in stipend accompanies these levels, and older children who have been part of the program for many years are granted leadership roles within the choir.
General Schedule
Wednesdays, every week, alternating between:
5:00-7:30 p.m., with dinner (three times/month)
5:00-6:30 p.m., no dinner, with music theory classes
Once-monthly Friday rehearsals, no dinner, 5:00-6:30 p.m.
Sundays, every other week (roughly):
9:00-9:45 a.m. rehearsal
10:30 a.m. service
Special Events 2022-2023
Major Events:
Candlelight Festival of Nine Lessons and Carols
The St. John's Choir School and Adult Choir
Scott Lamlein, choirmaster; Floyd Higgins, organ
In the tradition of King's College, Cambridge, prepare your soul for the Christmas miracle with carols for choir and organ.
Sunday, December 11, 2022, 3:00 p.m.
Choral Music for the Soul
Fauré's Requiem with the Farmington Valley Symphony Orchestra
Sunday, March 5, 2023, 3:00 p.m.
Choral Evensong
Experience the beautiful, ancient custom of closing the day with graceful readings, prayer and music
Sunday, October 23, 2022, 5:00 p.m. – Choir School and Adult Choir
Sunday, March 26, 2023, 5:00 p.m. – Five Choir Schools at Trinity College Chapel
Additional Events:
Choir School sings at the Yard Goats game
Friday evening, September 9, 2022
Christmas at St. John's!
– Christmas Pageant, Sunday, December 18, 2022
– Christmas Eve, December 24, 2022, 4:00 p.m. service
Palm Sunday, Maundy Thursday, Good Friday and Easter Services, April 2-9, 2023
And…  Choir Camp!
Sleep-away at Incarnation Center, Ivoryton: July 30-August 4, 2023
Click here for the full, always-updated, choir calendar. Scroll down for info on how to subscribe to the calendar on your phone or Google account.
Choir Policies and Attendance
A warm welcome to all new and returning choir singers and choir families! These policies are intended to help acquaint all with the operations of the music ministry at St. John's, and to be a useful source of information for anyone involved in the choir program. It is both an honor and a privilege for us to participate in this vibrant music ministry. Please read all of these policies carefully: Click here to download.
Questions? Contact Scott Lamlein here or Read more about Choir School Basics and Audition info.

Choir Calendars
ICAL Code for use in devices or Google:

IMPORTANT NOTE: The ICAL link only displays two months ahead at a time, so use the links above for any advance planning.
Instructions for Google Calendar (click "using a link")
CHOIR SCHOOL CODE (copy/paste the whole thing, with no extra spaces):
https://solutions.acstechnologies.com/crm/events/158872/youth-choir.ics
ADULT CHOIR CODE (copy/paste the whole thing, with no extra spaces):
https://solutions.acstechnologies.com/crm/events/158872/adult-choir-calendar.ics