St. John's Episcopal Church
679 Farmington Avenue
West Hartford, CT 06119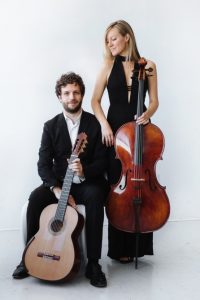 Join us for a beautiful chamber music concert on Friday, October 14, 2022 at 7:30pm by Boyd Meets Girl: Laura Metcalf, cello; Rupert Boyd, guitar. Ms. Metcalf is no stranger to our series, having grown up at St. John's Church. We're very excited about this return engagement, as their 2020 performance for Music at the Red Door was online-only due to the pandemic.
Never attended a Red Door event? Click here to sign up online.
The concert is free admission, suggested donation $20. Checks payable to Music at the Red Door or click here to donate online.
Click below to watch. Click here for full program pdf.
Program:
Reflexões No. 6 – Jaime Zenamon (b. 1953)
xxxVivissimo
Gretchen am Spinnrade – Franz Schubert (1797-1828)
The Deserted Garden – Florence Price (1887-1953) *
Bachianas Brasileiras No. 5 – Heitor Villa-Lobos (1887-1959)
Allegretto comodo – Radamés Gnattali (1906-1988)
Shenandoah – Caroline Shaw (b. 1982) *
Two Part Inventions – Johann Sebastian Bach (1685-1750) *
xxxNo. 8: F Major
xxxNo. 10: G Major
xxxNo. 6: E Major
xxxNo. 13: A minor
from Mountain Songs – Robert Beaser (b. 1954)
xxxBarbara Allen
xxxThe House Carpenter
Arabesque No. 1 – Claude Debussy (1862-1918) *
Eleanor Rigby – Lennon/McCartney (arr. S. Metcalf)
Blackbird – Lennon/McCartney *
A New York Minute – Marián Budos (b. 1968)
* Arr. Boyd Meets Girl
Click here to listen to Boyd Meets Girl online.
Boyd Meets Girl pairs Australian classical guitarist Rupert Boyd with American cellist Laura Metcalf. The duo performs an eclectic and engaging range of repertoire, from the baroque through modern day, including many of their own arrangements. Both acclaimed soloists in their own right, Boyd has been described as "truly evocative" by The Washington Post, and as "a player who deserves to be heard" by Classical Guitar Magazine, while Metcalf, also a member of the ensembles Sybarite5 and Break of Reality, has been called "brilliant" by Gramophone. Boyd Meets Girl has toured throughout the USA, Australia, India and Nepal, including appearances at the Newport Music Festival (Rhode Island), the Gharana Music Festival (Kathmandu, Nepal) and the Monsoon Music Festival (Kolkata, India).

In 2017 Boyd Meets Girl released its debut album on the Grammy award-winning label Sono Luminous, in conjunction with a 40-concert world tour. The album reached #3 on the Billboard Traditional Classical chart, and was described as "winning" by Classical Guitar Magazine, and received the following review in Gramophone: "They play like one, with a harmony of purpose as sure as their intonation." The album has been broadcast on New York's WQXR and SiriusXM, among others, and was selected as "Album of the Week" on California's KDFC and Australia's national ABC Classic FM.
A happily married couple, the duo lives in New York City.