St. John's Episcopal Church
679 Farmington Avenue
West Hartford, CT 06119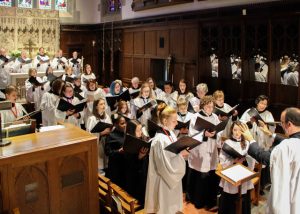 A Requiem is a prayer for rest, traditionally for those who have died. The five movements of Dan Forrest's Requiem for the Living, however, offer a new twist—a narrative just as much for the living, with all our struggles, as for the dead. Join us on Saturday, April 27, 2024 at 3:00pm and fill your soul with this transcendent music that speaks to all of us. The event includes a major organ solo piece by Mr. Houlihan. This event will be presented in person and by livestream.
The St. John's Adult Choir and Choir School with orchestra; Scott Lamlein, choirmaster; Christopher Houlihan, organist.
A reception will follow this concert.
The concert is free admission, suggested donation $20. Checks payable to Music at the Red Door or click here to donate online.