St. John's Episcopal Church
679 Farmington Ave, West Hartford, CT 06119
Join us for a pop-up concert featuring Hartt students, on Friday, April 12, at 7:30pm! This concert is free. No tickets are required.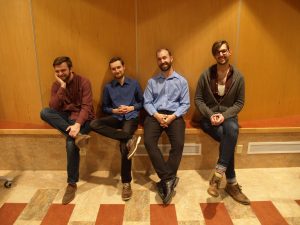 Founded in 2018 at The Hartt School, the Ma'at Saxophone Quartet comprises four outstanding graduate students: Bradley Karas, Mark Northup, Andrew MacRossie, and Joseph Spence.  Ma'at won second place in the Music Teachers National Association's Eastern Division Chamber Competition. They were featured at Carnegie Mellon University in Pittsburgh for the Region 8 North American Saxophone Alliance Conference playing the music of Kyle Landry and Carter Pann. They have been coached in masterclasses by Ogni Suono, and the St. Lawrence String Quartet.
The quartet took its name from the ancient Egyptian goddess who was the embodiment of cosmic order, harmony, and justice. The eternal fate of a deceased person was known when the heart was weighed on a scale, balancing against "Feather of Ma'at"; if it balanced, the person had lived a truthful life and would be peaceful in death.
Ma'at's program includes new works by Carter Pann and Kyle Landry, The Holberg Suite by Edvard Grieg, and others.