St. John's Episcopal Church
679 Farmington Avenue, West Hartford, CT 06119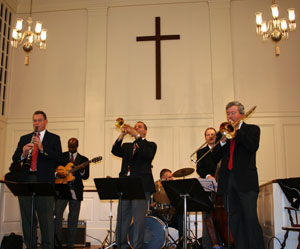 An evening of Dixieland jazz! Join us in the marvelous acoustics of St. John's Church for a foot-tapping delight. Standards, old-time hymns, and fun abound. The Hot Cat Jazz Band was founded in 1990 by Wethersfield trumpeter Ross Tucker, and has a huge repertoire of jazz that they perform at parties, events, and worship services.
The concert is free admission, suggested donation $20.
The Hot Cats pride themselves in presenting a very wide range of styles to please all ages.
Their repertoire includes Swing standards of George Gershwin, Cole Porter and Duke Ellington;  Big band hits of Benny Goodman, Glenn Miller and Tommy Dorsey;  Popular songs from the 1920's; Hymns and Worship songs; and  New Orleans Dixieland favorites.
Ross Tucker – trumpet, band leader
Tom Boates – trombone
Andy Sherwood – clarinet
Steve Trombley – guitar
Donn Doucette – bass
Tom Palinko – drums