St. John's Episcopal Church
679 Farmington Avenue, West Hartford, CT 06119
VIDEO ONLY. During the COVID-19 self isolation, we are presenting brief live-stream-only recitals on Wednesdays at 12:15.
New World Trio pianist Pi-Hsun Shih performs for us on Wednesday, May 13 at 12:15 at her home studio. Missed it? No problem! After the concert, you can watch the concert at any time at this same link.
Music at the Red Door online recitals are offered as a benefit for people in Greater Hartford deeply effected by COVID-19: please help. Please thank our artists by donating generously to: Loaves & Fishes, Journey Home, and/or Food Share. At St. John's, we have only limited resources to help the homeless and hungry, and with the office closed, we are not able to see people directly. Your donation will make a big difference.
Program:
Claude Debussy (1862-1918): Clair de Lune
Sergei Rachmaninoff (1873-1943): Lilacs
Edvard Grieg (1843-1907): To the Spring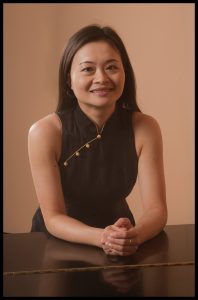 Described as a pianist of "searing precision" by her hometown newspaper Hartford Courant, Pi-Hsun Shih enjoys a versatile career as a soloist, collaborative pianist, and teacher. The Taiwanese-American musician has been a featured soloist with the Sao Paulo State Symphony, The Hartt Symphony, and the Mexico State Symphony Orchestra, for whom she served as the principal keyboardist. She has performed throughout North America, South America, and Asia with ensembles such as Empire Brass and the Emerson String Quartet.
Ms. Shih has been a participant in a number of diverse chamber ensembles. Early in her career, she performed in the clarinet-piano ensemble Duo Asiatica, whose self-titled album was chosen as Record of the Month by Shanghai's Xinmin newspaper. In a review of the recording, the International Clarinet Magazine praised Ms. Shih for a "passionate virtuosity," that supported, not supplanted the soloist. A sensitive collaborator, Ms. Shih later was invited to join the New World Piano Trio, with whom she has performed for over a decade. She has also concertized with her sister Yu-Chen Shih, as Duo Asiana, a piano duet that recently won Second Prize at the International Chamber Music Ensemble Competition in Boston. Her experience with those ensembles has allowed her to build on the strong grounding in classical repertoire she received at The Hartt School (D.M.A.) and Boston University (M.M.) and develop a musical style characterized by the Hartford Courant as full of "agile ease and brilliant flashes of panache."
Ms. Shih's collaborations also include promoting contemporary compositions. She has premiered works by Shih-Hui Chen, David Macbride, Dan Román, Robert Edward Smith, Kurt Stallman, Ken Steen, and Gwyneth Walker. She regularly performs with Russian-American cellist/composer Tanya Anisimova as Farela Duo. The duo has made its New York debut at Carnegie Hall's Weill Recital Hall.
Ms. Shih balances her vibrant performing career with an equally active teaching schedule. Currently on the faculty of the Hartt School Community, she has also taught at Mount Holyoke College and in the Hartt School Collegiate Division. She studied with Gary Steigerwalt, Hong-Kuan Chen, Irma Vallecillo and Rolf-Peter Wille.
For more: Subscribe to our YouTube channel or follow us on Facebook to receive the most up-to-date info, and sign up for email updates.
Music at the Red Door is supported in part by the Richard P. Garmany Fund of the Hartford Foundation for Public Giving, the Edward C. & Ann T. Roberts Foundation, the George A. & Grace L. Long Foundation, the Ensworth Charitable Foundation, the William & Alice Mortensen Foundation, and the Marjorie Jolidon Fund of the Greater Hartford Chapter, American Guild of Organists.