St. John's Episcopal Church
679 Farmington Avenue, West Hartford, CT 06119
The Pipes Alive! series continues with Carolyn Craig playing the St. John's organ on Sunday, March 7, 2021 at 12:30pm. This concert is part of our 25th Anniversary Celebration of the St. John's Austin Organ. Read about the organ here.
Click below to watch.
Program:
Herbert Howells (1892-1983): Rhapsody in Db, Op. 17, No. 1
Cecilia McDowall (b. 1951): Sacred and hallowed fire
Louis Vierne (1870-1937): Adagio and Final from Symphonie No. 3
This program presents works of the twentieth and twenty-first centuries. The works of Howells and Vierne are quintessential examples of the English and French romantic organ schools, influenced by the developments in organ-building in each country. Cecilia McDowall's "Sacred and hallowed fire" breathes life into the beautiful poetry of George Herbert. It will be an honor to present these works at St. John's.
Carolyn Craig, of Knoxville, TN, is in her second year pursuing her MM in Organ Performance at Yale's Institute of Sacred Music, where she studies organ with Martin Jean and conducting with David Hill. In her first year, she studied organ with Jon Laukvik and conducting with Marguerite Brooks. Carolyn's work as Senior Organ Scholar at Trinity on the Green with Walden Moore is integral to her education. While a student at Yale, Carolyn has won the Mary Baker Award in Organ Accompaniment for her work with Yale's Schola Cantorum, and the Audience Prize in the 2020 Arthur Poister Scholarship Competition in Organ Playing, held online due to Covid-19.
Prior to attending Yale, Carolyn held the most prestigious academic scholarship, the Wells Scholarship, at Indiana University. She graduated summa cum laude in 2018 with a BM in Organ Performance, in the studio of Chris Young, and minors in Conducting and German. Carolyn was the Undergraduate Organ Scholar at Trinity Episcopal Church with Marilyn Keiser. During her undergraduate degree, Carolyn studied abroad in Graz for a summer and in Vienna for a semester. Following graduation from IU, Carolyn spent a formative gap year as the 2018-2019 Organ Scholar at Truro Cathedral in England.
While still in high school, studying with John Brock, Carolyn won the AGO's Region IV Quimby Competition for Young Organists. Since, Carolyn's solo recitals have taken her to incredible venues internationally and domestically, including St. Paul's Cathedral in London and the Methuen Memorial Music Hall closer to home. She can also be heard on the nationally syndicated American Public Media program Pipedreams. As a solo pianist, Carolyn has performed in Carnegie Hall as a winner of the American Protégé International Talent Competition, among other distinctions. Carolyn was named to The Diapason's "20 under 30" class of 2019. Carolyn is honored to serve as the 2020-2021 Student Liaison for the New Haven American Guild of Organists chapter.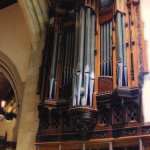 Join us for half-hour organ concerts featuring St. John's magnificent Austin pipe organ, on the first Sunday of the month, January through June, 12:30 p.m. with regional organists. Free!
Music at the Red Door is supported in part by the Richard P. Garmany Fund of the Hartford Foundation for Public Giving, the Edward C. & Ann T. Roberts Foundation, the George A. & Grace L. Long Foundation, the Ensworth Charitable Foundation, the William & Alice Mortensen Foundation, and the Marjorie Jolidon Fund of the Greater Hartford Chapter, American Guild of Organists.