St. John's Episcopal Church
679 Farmington Avenue, West Hartford, CT 06119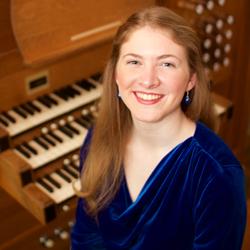 The Pipes Alive! series continues with Carolyn Craig playing the St. John's organ on Sunday, March 7, 2021 at 12:30pm. This concert is part of our 25th Anniversary Celebration of the St. John's Austin Organ. Read about the organ here.
Carolyn Craig, of Knoxville, TN, is in her second year pursuing her Master's of Music in Organ Performance at Yale, where she has studied organ with Martin Jean and Jon Laukvik and conducting with David Hill and Marguerite Brooks. In New Haven, Carolyn is also the Senior Organ Scholar at Trinity on the Green, working with Walden Moore. She recently received Yale's Mary Baker Award for collaborative performance.
Prior to attending Yale, Carolyn spent a formative gap year as the 2019-2020 Organ Scholar at Truro Cathedral in England. For her undergraduate degree, Carolyn attended Indiana University, where she held the prestigious Wells Scholarship and graduated summa cum laude with a Bachelor of Music in Organ Performance in the studio of Christopher Young and with minors in Conducting and German. While at Indiana University, Carolyn was the Organ Scholar at Trinity Episcopal Church, working with Dr. Marilyn Keiser. During her semesters in Graz and Vienna, Carolyn studied with Ulrich Walter and Johannes Ebenbauer.
A winner of the AGO's Region IV Quimby Competition for Young Organists, Carolyn has been heard on APR's Pipedreams and has given solo recitals internationally, at venues such as Truro, Winchester, and St. Paul's Cathedrals, and domestically, at venues such as the Methuen Memorial Music Hall. As a solo pianist, she has performed in Carnegie Hall. Carolyn was named to The Diapason's "20 under 30" class of 2019 and is a finalist for the 2020 Arthur Poister Competition in Organ Playing.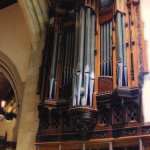 Join us for half-hour organ concerts featuring St. John's magnificent Austin pipe organ, on the first Sunday of the month, January through June, 12:30 p.m. with regional organists. Free!
Music at the Red Door is supported in part by the Richard P. Garmany Fund of the Hartford Foundation for Public Giving, the Edward C. & Ann T. Roberts Foundation, the George A. & Grace L. Long Foundation, the Ensworth Charitable Foundation, the William & Alice Mortensen Foundation, and the Marjorie Jolidon Fund of the Greater Hartford Chapter, American Guild of Organists.