St. John's Episcopal Church
679 Farmington Avenue, West Hartford, CT 06119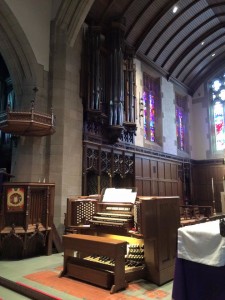 Our Popular Pipes Alive! series continues with Floyd Higgins playing the mighty Austin organ on Sunday, March 5 at 12:30 p.m. Floyd is a long-time friend of St. John's, and Co-Music Director at Sacred Heart Church, Suffield.
Program:
David N. Johnson – Trumpet Tune in A Major
Camille Saint-Saens – Fantasy in E-flat
Louis Vierne – Scherzo, from Symphony No. 2
John Ireland – Elegy
Max Reger – Toccata & Fugue in d minor
Join us for half-hour organ concerts featuring St. John's magnificent Austin pipe organ, on the first Sunday of the month, January through June, 12:30 p.m. with local organists. Free!
Full Concert Audio: