St. John's Episcopal Church
679 Farmington Avenue, West Hartford, CT 06119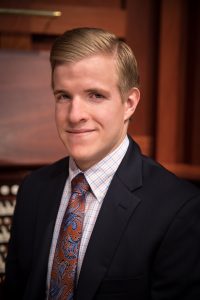 The 2020 Pipes Alive! series continues with Grant Wareham playing the St. John's organ on Sunday, March 1 at 12:30 p.m.
On this program:
Johann Sebastian Bach (1685-1750)
Prelude and Fugue in G Major BWV 541
Sigfrid Karg-Elert (1877-1933)
Drei Stücke op. 142: III. Romantisch
Felix Mendelssohn (1809-1847)
Sonata No. 1 in F Minor Op. 65 No. 1
A Dayton, Ohio native, Grant Wareham began organ studies with Jerry Taylor in 2007. He earned his BMus at Rice University's Shepherd School of Music, where he studied with Ken Cowan, graduating Cum Laude and with Distinction in Research and Creative Work. While at Rice, Grant served as Moseley Memorial Organ Scholar at St. Thomas' Episcopal Church in Houston, and then as Associate Organist at Palmer Memorial Episcopal Church. Winner of both the First and Audience Prizes at the 2017 Albert Schweitzer Organ Competition in Hartford, CT, Grant has appeared at the 2017 OHS Convention, and as a semifinalist in the 2019 Longwood International Organ Competition. Grant is currently pursuing his Master of Music degree at the Yale University Institute of Sacred Music and School of Music, where he studies with Jon Laukvik after having studied with Thomas Murray during his final year of teaching. He serves as the Organist and Choirmaster for the Episcopal Church at Yale, and also as Organ Scholar at Christ Church New Haven, where he works alongside Yale University Organist Emerita Thomas Murray.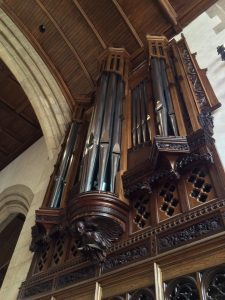 Join us for half-hour organ concerts featuring St. John's magnificent Austin pipe organ, on the first Sunday of the month, January through June, 12:30 p.m. with regional organists. Free!
Music at the Red Door is supported in part by the Richard P. Garmany Fund of the Hartford Foundation for Public Giving, the Edward C. & Ann T. Roberts Foundation, the George A. & Grace L. Long Foundation, the Ensworth Charitable Foundation, the William & Alice Mortensen Foundation, and the Marjorie Jolidon Fund of the Greater Hartford Chapter, American Guild of Organists.