St. John's Episcopal Church
679 Farmington Avenue, West Hartford, CT 06119
The Pipes Alive! series continues with Scott Lamlein playing the St. John's organ on Sunday, February 7, 2021 at 12:30pm.
Click below to watch.
Program:
J. S. Bach: Fantasia and Fugue in G minor, BWV 542
Carson Cooman: Alborada (2020)
Adolphus Hailstork: Great Day (1999)
Christa Rakich: Quodlibet on Slane (2020)
Charles-Marie Widor: Allegro vivace (variations) from Symphony V
As director of music and organist at St. John's, Scott directs our Royal School of Church Music-affiliated Youth Choir and our semi-professional Adult Choir. He also serves as artistic director of the Music at the Red Door concert series.
Cited by The American Organist magazine as infusing his music with "virtuosic flair and fire," Scott's performances, whether organ or piano, bring a unique emotional and spiritual inspiration to his audiences. In demand as a concert artist, Scott has traveled near and far, with appearances at the Piccolo Spoleto Festival in South Carolina, First Night Worcester (MA), and the Organ Masters Series in Nashua (NH). He has concertized in Germany and Switzerland, as well as in metro Boston and New York. Previously, he served as artistic director of the Music Alive! Concert Series, the a cappella chorus, Sacred Voices, and the South Hadley Chorale.
Scott has three CDs in current release—The Organ at Worship, and In Quiet Joy: Music of Advent and Christmas, and  a CD of his piano compositions, entitled Peace. He also is featured on the CD, Great Organs of Worcester. His compositions are often featured as part of the online Jesuit daily podcast, Pray as You Go, and his organ compositions have been published by Lorenz.
Scott is a 1994 graduate of the Hartt School, University of Hartford, where he studied organ with John Holtz and Larry Allen. Active as an organ instructor for over 25 years, he serves on the faculty of the Hartt Community Division, where he specializes in organ education for pianists.
Scott's greatest passion, however, is his work at St. John's, where he sees music as a ministry and a real connecting point with the Sacred. Each person involved in our music ministry plays a role in helping others through the ups and downs of life by providing moments of solace and wonder through beautiful music. He loves to talk about all aspects of St. John's, especially the music program, so feel free to be in touch!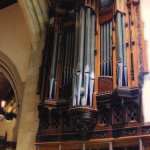 Join us for half-hour organ concerts featuring St. John's magnificent Austin pipe organ, on the first Sunday of the month, January through June, 12:30 p.m. with regional organists. Free!
Music at the Red Door is supported in part by the Richard P. Garmany Fund of the Hartford Foundation for Public Giving, the Edward C. & Ann T. Roberts Foundation, the George A. & Grace L. Long Foundation, the Ensworth Charitable Foundation, the William & Alice Mortensen Foundation, and the Marjorie Jolidon Fund of the Greater Hartford Chapter, American Guild of Organists.