St. John's Episcopal Church
679 Farmington Avenue, West Hartford, CT 06119
Due to COVID-19, this is a livestream-only event. Watch the concert online right from this page. Two additional concerts this season! The 2020-2021 Pipes Alive! series begins with Zachary Schurman playing the St. John's organ on Sunday, November 1 at 12:30 p.m.
Click below to watch.
Program:
Edward Elgar (1857-1934), arr. George Clement Martin: Imperial March
Johann Sebastian Bach (1685-1750): Prelude and Fugue in G major
Cesar Franck (1822-1890): Chorale No. 3 in A minor
Zachary B. Schurman is currently the Assistant Chapel Organist at Trinity College, Connecticut, where he studies with critically acclaimed concert organist Professor Christopher Houlihan. As Assistant Chapel Organist, Zachary regularly accompanies The Trinity College Chapel Singers for Evensongs, Sunday services, and concerts, in addition to performing organ literature throughout the academic year. He also sings tenor with The Chapel Singers. Most notably, Zachary accompanied The Chapel Singers in Jonathan Dove's Missa Brevis in March, 2019. At Trinity, Zac plans on majoring in Religious Studies and in Music. Zac has worked professionally since high school as the Organ Scholar at St. Peter's-by-the-Sea Episcopal Church in Bay Shore, New York. At St. Peter's, Zac studied organ and choral conducting under organist and choirmaster Mark T. Engelhardt and voice with tenor Dr. Christopher Reames. Zachary continues to play at St. Peter's during the summer months. In addition, Zac also studied J. S. Bach's Toccata in D minor, "the Dorian," in Hartford in 2017 with former organist at St. Bartholomew's Episcopal Church in Manhattan, William Trafka. Zac also recently played in a master class with Professor of Organ at the University of Alabama and concert artist, Dr. Faythe Freese. Zac was a recipient of the Suffolk County AGO Secondary Scholarship in 2016 and 2017, the Sebastian M. Glück College Scholarship in 2018, and the John Rose Organ Scholarship in 2018.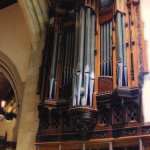 Join us for half-hour organ concerts featuring St. John's magnificent Austin pipe organ, on the first Sunday of the month, November through June, 12:30 p.m. with regional organists. Free!
Music at the Red Door is supported in part by the Richard P. Garmany Fund of the Hartford Foundation for Public Giving, the Edward C. & Ann T. Roberts Foundation, the George A. & Grace L. Long Foundation, the Ensworth Charitable Foundation, the William & Alice Mortensen Foundation, and the Marjorie Jolidon Fund of the Greater Hartford Chapter, American Guild of Organists.