St. John's Episcopal Church
679 Farmington Avenue, West Hartford, CT 06119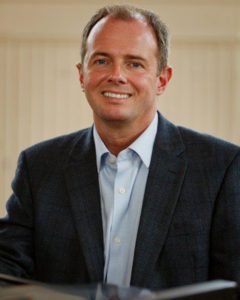 The Pipes Alive! series continues with organist Kyle Swann playing the St. John's organ on Sunday, January 7, 2024, at 12:30pm. This event will be presented in person and by livestream.
The concert is free admission – donations welcome in any amount. Checks payable to Music at the Red Door or click here to donate online.
Learn more about St. John's famed Austin pipe organ.
About the Artist:
Pianist and conductor Kyle Swann made his professional debut in 1993, leading James Sellars's The World Is Round at the Wadsworth Atheneum. He has subsequently appeared with numerous orchestras and opera companies in the United States, Europe, and South America. His repertory includes the staples of symphonic literature, over one hundred staged works, and countless artsongs. In recent seasons, he has appeared with Opera Theater of Connecticut, Mississippi Opera, Connecticut Opera, and Opera Boston in works ranging from Gay's The Beggar's Opera (named "Best of Boston") to Strauss' Salome. In addition, he has been a pianist for several seasons at the Sanibel Music Festival.
Swann held the position of Resident Conductor of Connecticut Opera, where he also served as Music Director for Opera Express, the outreach and educational component. In addition to his conducting duties, he was responsible for the resident artists' role preparation and professional development.
Swann worked for over a decade the faculty at the Yale School of Music, where he was a coach for Yale Opera and accompanied numerous recitals. He is also a vocal coach at the Hartt School of Music, where he has conducted and accompanied numerous performances including Le nozze di Figaro, Susannah, and The Rape of Lucretia. In addition to his roster of private students, Swann has taught courses in diction, accompanying, conducting, and literature.
Upcoming engagements include Hansel and Gretel and L'Italiana in Algeri. In addition to freelance conducting and his academic appointments, he has been, since 1997, the Precentor and Organist at Hartford's Grace Episcopal Church, where he conducts a select choir and oversees a vigorous program of liturgical music from Gregorian chant to contemporary works. He oversaw the design and installation of the parish's Schoenstein pipe organ, which was installed and dedicated in 2017
Swann holds degrees from the Hartt School of Music, and counts Sidney Harth, Eleazar de Carvalho, Arthur Winograd, Raymond Hanson (Hartt Professor Emeritus) and Anne Koscielny as his principal teachers.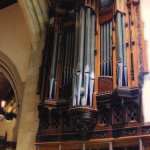 Join us for half-hour organ concerts featuring St. John's magnificent Austin pipe organ, on the first Sunday of the month, November through June, 12:30 p.m. with regional organists. Free!