St. John's Episcopal Church
679 Farmington Avenue
West Hartford, CT 06119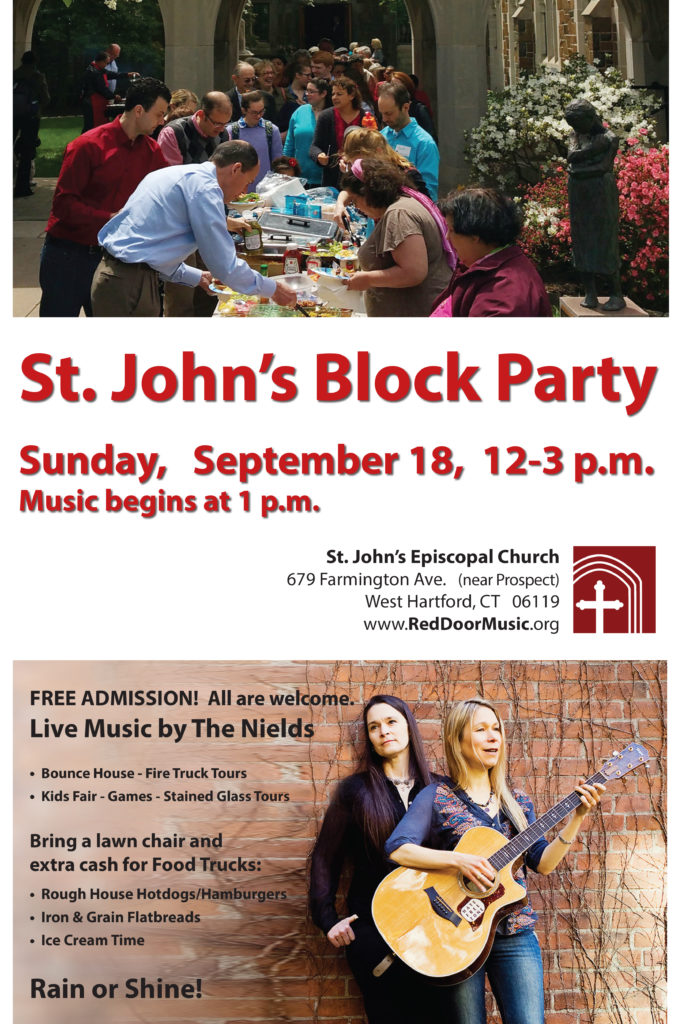 Join us for St. John's first Block Party, featuring music by local favorite The Nields! The celebration begins at noon with food trucks, church tours, bounce house and children's activities. Music by The Nields begins at 1:00 p.m. on the front lawn. Bring your lawn chair and blanket for an afternoon of fun for all ages.
This event is free. No tickets are necessary.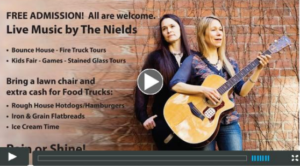 The Nields––sisters Nerissa and Katryna––have lit up the folk circuit since 1991. For twenty-five years now, the sisters have traveled the country as members of beloved folk rock band The Nields. With18 albums, major and independent record and publishing deals, performances with 10,000 Maniacs, The Band, James Taylor, and the Indigo Girls, they have lived the Rock & Roll life. Since becoming mothers (each sister has a daughter and a son) they have gone on to broaden their repertoire with children's CDs, a DVD and a book All Together Singing in the Kitchen: Creative Ways to Make and Listen to Music as a Family. The Nields have been lauded for their gorgeous, lilting, sibling harmonies, their wise, classic, folk/pop songs, their hilarious banter on stage, and their generosity and warmth in performance and engagement with their fans. Their latest album, XVII, celebrates a lifelong career whose aims continue to be a deep faith in community, loyalty, and the power of music to bring joy. They have just released a double album greatest hits collection (on vinyl!) called Haven't I Paid My Dues By Now and are at work on music for a soundtrack to Nerissa's forthcoming novel, The Big Idea.
"There is a vitality, a life force, an energy, a quickening that is translated through you into action, and because there is only one of you in all of time, this expression is unique. And if you block it, it will never exist through any other medium and it will be lost. The world will not have it. It is not your business to determine how good it is nor how valuable nor how it compares with other expressions. It is your business to keep it yours clearly and directly, to keep the channel open. You do not even have to believe in yourself or your work. You have to keep yourself open and aware to the urges that motivate you. Keep the channel open. … No artist is pleased. [There is] no satisfaction whatever at any time. There is only a queer divine dissatisfaction, a blessed unrest that keeps us marching and makes us more alive than the others"
– Martha Graham