St. John's Episcopal Church
679 Farmington Avenue, West Hartford, CT 06119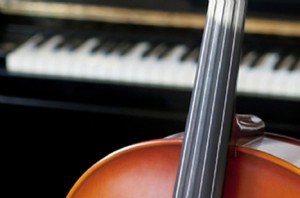 An afternoon of sublime chamber music in a beautiful setting. Join Tanya Anisimova and Pi-Hsun Shih, the Duo Bona Fide, as they present music by Prokofiev, Schumann, and Chopin. Start your week with beautiful music – you'll be glad you did!
Download and print the flyer here: Letter Size – Large
Program:
Sonata for Cello & Piano in C Major, Op. 119 – Sergey Prokofiev (1891–1953)
I Andante Grave – Moderato Animato
II Moderato – Andante dolce
III Allegro, ma non troppo
Five Pieces in Folk Style for Cello and Piano, Op. 102 – Robert Schumann (1810-1856)
Mit humor
Langsam
Nicht schnell, mit viel Ton zu spielen
Nicht zu rasch
Stark un markiert
—INTERMISSION—
Sonata for Cello and Piano in G Minor, Op.65 – Frédéric Chopin (1810 – 1849)
I Allegro moderato
II Scherzo
III Largo
IV Finale- Allegro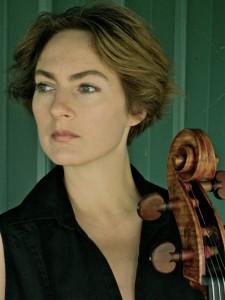 Internationally renowned musician, Tanya Anisimova, defies categorization. This superb cellist, composer, improviser, singer, and arranger, is as much at ease performing her own cello concerto with a symphony orchestra as she is improvising in concert with legendary New Age musician Paul Horn.
Highly educated in her field, Ms. Anisimova holds graduate degrees from Moscow Conservatory, Boston University and Yale. She is an active pedagogue and lecturer, and has presented numerous lectures and demonstrations on the music of J. S. Bach and Ludwig van Beethoven at Portal de la Universidad Nacional Autónoma de México (U.N.A.M.) at the University of Mexico and the Conservatorio De Las Rosas in Morelia. Ms. Anisimova has taught master-classes in cello, improvisation, and chamber music at Moscow Conservatory, Icelandic Academy of Fine Arts, Hartt School of Music, Loyola University, and Virginia Commonwealth University among others.
Celebrated cellist Janos Starker has hailed Anisimova as, "an Everest climber," and a "high class cellist with a strong and inventive musical mind." Legendary conductor Zubin Metha described her as "the exceptional talent." As a prolific composer, Anisimova's original work, Caravan, was selected as the best work at the World Saxophone Congress in the United Kingdom in 2012. As a recording artist, Anisimova has produced nine CD albums featuring an extensive repertoire ranging from her own cello transcriptions of Bach's Six Violin Sonatas and Partitas, as well as her own compositions and improvisations, to a video performance of Ernest Bloch's Schelomo with Symphonicity Orchestra.
For her most recent project, Anisimova has partnered with Taiwanese pianist Pi-Hsun Shih as Duo Bona Fide on DVD which mirrors their 2012 hugely successful Carnegie Hall Recital and features music from the 18th to the 21st centuries. For more information about the artist please go to the following web site: https://www.tanyaanisimova.com Please also watch Tanya's recent rendition of the famed Bloch's Schelomo with the Symphonicity Orchestra: https://www.youtube.com/watch?v=MC2vVwzlhnY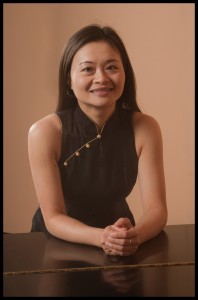 Described as a pianist of "searing precision" by her hometown newspaper, the Hartford Courant, Pi-Hsun Shih enjoys a versatile career as a soloist, collaborative pianist, and teacher. The Taiwanese-American musician has been a featured soloist with the Sao Paulo State Symphony, The Hartt Symphony, and the Mexico State Symphony Orchestra, for whom she served as the principal keyboardist. She has performed throughout North America, South America, and Asia with ensembles such as Empire Brass and the Emerson String Quartet.
Ms. Shih has been a participant in a number of diverse chamber ensembles. Early in her career, she performed in the clarinet-piano ensemble Duo Asiatica, whose self-titled album was chosen as Record of the Month by Shanghai's Xinmin newspaper. In a review of the recording, the International Clarinet Magazine praised Ms. Shih for a "passionate virtuosity," that supported, not supplanted the soloist. A sensitive collaborator, Ms. Shih later was invited to join the New World Piano Trio, with whom she has performed for over a decade. She has also concertized with her sister Yu-Chen Shih, as Duo Asiana, a piano duet that recently won the Second Prize at the International Chamber Music Ensemble Competition in Boston. Her experience with those ensembles has allowed her to build on the strong grounding in classical repertoire she received at The Hartt School (D.M.A.) and Boston University (M.M.) and develop a musical style characterized as full of "agile ease and brilliant flashes of panache."
Ms. Shih's recent collaborations has focused on promoting contemporary compositions. She has premiered works by Shih-Hui Chen, David Macbride, Dan Román, Robert Edward Smith, Kurt Stallman, Ken Steen, and Gwyneth Walker. She also has worked as a member of the Kelet Duo to present new music from the East. She regularly performs with cellist/composer Tanya Anisimova as Duo Bona Fide, which debuted at Weill Recital Hall at Carnegie Hall. Ms.
Shih balances her vibrant performing career with an equally active teaching schedule. Currently on the faculty of the Hartt School Community Division and the Center for Creative Youth at Wesleyan University, she has also taught at Mount Holyoke College and in the Hartt School Collegiate Division.