St. John's Episcopal Church
679 Farmington Avenue, West Hartford, CT 06119
Missed it?
Check out the printed program here.
Listen to the podcast here.
Lessons and Carols Preview from Kyle S. Reyes on Vimeo.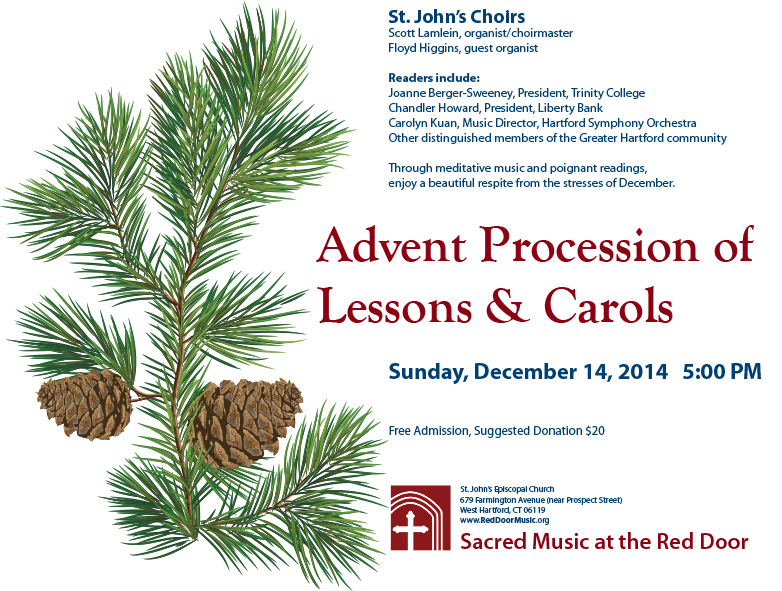 A beautiful respite from the stresses of December. The St. John's Adult and Youth Choirs present the advent message of anticipation and grace through meditative anthems, poignant readings, and carols sung by the gathered congregation – all in the grand English style. Join us as the St. John's Choirs proceed literally and symbolically from darkness into light.
Download and print the flyer here: Letter Size – Poster Size
Readers include:
Carolyn Kuan, Music Director, Hartford Symphony Orchestra
Joanne Berger-Sweeney, President, Trinity College
Chandler Howard, President, Liberty Bank
Other distinguished members of the Greater Hartford community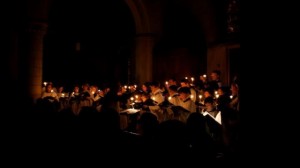 Music by the Youth and Adult Choirs of St. John's Church
Scott Lamlein, organist/choirmaster
Floyd Higgins, guest organist
While all things were in quiet silence – Ned Rorem
The Lamb – John Tavener
A spotless rose – Herbert Howells
People, look east – Besancon Carol
Ave Maria – Tomas de Luis Victoria
Magnificat (Collegium Regale) – Herbert Howells
A New Heaven – Anthony Chadney
Advent Carols for Congregation and Choir