St. John's Episcopal Church
679 Farmington Avenue, West Hartford, CT 06119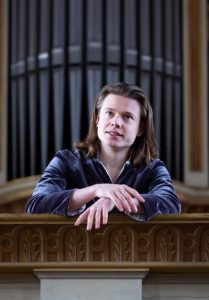 We welcome concert organist Sebastian Heindl and the Greater Hartford American Guild of Organists' Jolidon Concert Series on Friday, June 16, 2023, at 7:30pm. In 2021 the leading German newspaper DIE ZEIT noted: "Sebastian Heindl does not just play the organ. He can lift his audience up to heaven or plunge them into misery – a miracle musician from Leipzig."
This concert is free admission, no tickets required. Suggested donation: $20 Checks payable to Music at the Red Door.
This event is co-sponsored by the Greater Hartford Chapter, American Guild of Organists.

An outdoor reception will follow the concert, weather permitting. Read the history of our amazing instrument here.
Program:
TBA
Sebastian Heindl received his fundamental musical education as a chorister in Leipzig's famous St. Thomas Boys Choir, where Johann Sebastian Bach was once the director of music. After that Heindl continued his studies in Church Music at Leipzig conservatory with Prof. Martin Schmeding and Prof. Thomas Lennartz.
Over the past years he attracted the attention of the international organ scene by earning a number of prizes in organ competitions all around the globe – including the Northern Ireland International Organ Competition, St. Albans Organ Competition, Silbermann Wettbewerb Freiberg, Internationale Orgelwoche Nürnberg. In 2019 he won the Longwood Gardens Organ Competition (USA), which is considered to be one of the most prestigious organ competitions worldwide. Concert tours lead him to United Kingdom, Ireland, Hungary, Austria, USA, Canada and Russia. Heindl was invited to play at Philharmonie Essen, Bamberg Symphony, Konzerthaus Berlin, Konzerthaus Wien and had his debut at the Gewandhaus Leipzig with Francis Poulenc's Concerto for organ and orchestra. He maintains a close cooperation with the Berliner Philharmoniker. During the COVID-19 pandemic he recorded a much appreciated concert with the Berlin Phil Brass Ensemble for the Digital Concert Hall. Since then he appeared frequently as a soloist and ensemble player at the Philharmonie.
The main focus of his extensive repertoire are the works of Bach, which he has memorized for the most part, the works by Liszt, Franck, Reger and Messiaen. He is particularly famous for his own transcriptions, among which are classical masterworks by Mozart, Beethoven, Wagner, Saint-Saens, Dukas, Mussorgsky, Holst and Gershwin. Sebastian Heindl also appears as improviser and composer. His highly individual own musical language consists of elements of modern Jazz music and classical formal structures. In 2021 and 2022 he conducted Bach cantata services at St. Thomas Church Leipzig and at the Leipzig University Church St. Pauli.
Thanks to his frequent activity on social media and the internet, especially YouTube, Heindl encouraged thousands of people to fall in love with organ music. For more information click here.
Music at the Red Door is supported in part by the Richard P. Garmany Fund of the Hartford Foundation for Public Giving, the Edward C. & Ann T. Roberts Foundation, the George A. & Grace L. Long Foundation, the Ensworth Charitable Foundation, the William & Alice Mortensen Foundation, and the Marjorie Jolidon Fund of the Greater Hartford Chapter, American Guild of Organists.