St. John's Episcopal Church
679 Farmington Avenue, West Hartford, CT 06119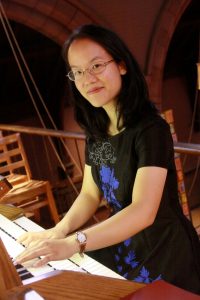 The Pipes Alive! series continues with organist Mary Pan playing the St. John's organ on Sunday, December 3, 2023, at 12:30pm. This event will be presented in person and by livestream.
The concert is free admission – donations welcome in any amount. Checks payable to Music at the Red Door or click here to donate online.
Learn more about St. John's famed Austin pipe organ.
About the artist:
Mary Pan is an organist, pianist, and choral director based in Rochester, New York. A native of Connecticut and a graduate of the Hartt School of Music and Yale Institute of Sacred Music, her teachers and mentors have included Margreet Francis (piano), Renée Anne
Louprette (organ), Thomas Murray (organ), Jeffrey Brillhart (improvisation), and, currently, Aaron Tan (organ). She is a prizewinner in many competitions, including the Audrey Thayer Piano Competition, the Albert Schweitzer Organ Competition, and the AGO Regional Competition for Young Organists. She is also a recipient of numerous scholarships and awards, including the M. Louise Miller Scholarship, the Yankee-Pogorzelski Memorial Scholarship, and the Peter B. Knock Memorial Music Fund.
Mary has served as organist or full-time organ scholar at several churches in Connecticut, as well as at Grace Church in New York City; Saint James Cathedral, Chicago (Episcopal); and Gloucester Cathedral in the United Kingdom. She is an associate of the Royal College of Organists.
Outside of music, Mary is a first-year medical student at the University of Rochester School of Medicine and is passionate about improving access to healthcare at the community and global levels.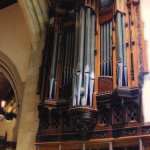 Join us for half-hour organ concerts featuring St. John's magnificent Austin pipe organ, on the first Sunday of the month, November through June, 12:30 p.m. with regional organists. Free!