St. John's Episcopal Church
679 Farmington Avenue, West Hartford, CT 06119
The Pipes Alive! series continues with Kari Miller playing the St. John's organ on Sunday, January 3, 2021 at 12:30pm.

Click below to watch.
Program:
Johann Sebastian Bach (1685-1750): Toccata and Fugue in E Major, BWV 566
Dennis Janzer (b. 1954): Soliloquy on Sometimes I Feel Like a Motherless Child
Johann Peter Kellner (1705-1772): Was Gott tut, das ist wohlgetan
Jacques Charpentier (1933-2017): L'Ange a la trompette
Organist Kari Miller began her musical life with piano lessons at the age of five. Organ lessons came some years later, and Ms. Miller held her first church position and gave her first organ recital while still a teenager, in her native state of Washington. She pursued her advanced training as a pianist, attending The Curtis Institute of Music and Indiana University, where she earned a Masters and DM in piano performance.
Kari's life as a church musician has included directing choirs and bell choirs and organizing programs of all kinds – as Director of Music and organist at Central Baptist Church in Hartford from 2007-2016, and as Interim Director of Music at South Church (UCC/Baptist) in New Britain in 2017-2018. But it is organ-playing that she finds most satisfying, and she presides at the SUM organ console with joyful enthusiasm.
Kari is an active member of the Greater Hartford Chapter of the American Guild of Organists and frequently appears on the chapter's annual Pipescreams concerts and other area events. She resides in Winsted, where she tends a large perennial garden and enjoys her three Siamese cats.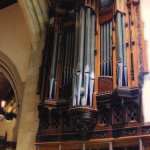 Join us for half-hour organ concerts featuring St. John's magnificent Austin pipe organ, on the first Sunday of the month, January through June, 12:30 p.m. with regional organists. Free!
Music at the Red Door is supported in part by the Richard P. Garmany Fund of the Hartford Foundation for Public Giving, the Edward C. & Ann T. Roberts Foundation, the George A. & Grace L. Long Foundation, the Ensworth Charitable Foundation, the William & Alice Mortensen Foundation, and the Marjorie Jolidon Fund of the Greater Hartford Chapter, American Guild of Organists.