St. John's Episcopal Church
679 Farmington Avenue, West Hartford, CT 06119
Due to COVID-19, this is a livestream-only event. Watch the concert online right from this page.
The Pipes Alive! series continues with Peter Niedmann playing the St. John's organ on Sunday, December 6 at 12:30pm.
Peter is a long-time friend of St. John's, a prolific published composer, and Director of Music at First Church of Christ, Newington.
Click below to watch.
Program: New Music by Peter Niedmann for Advent and Christmas
Prelude on Veni Emmanuel
Prelude on Aberystwyth
Prelude on In Dulci Jubilo
Prelude on Stille Nacht
Prelude on Greensleeves
Toccata – Gloria
The music of award-winning composer, Peter Niedmann, is widely performed throughout the United States and has garnered critical acclaim.  His choral music has been sung at The White House and a Papal Mass for Pope John Paul II.  In the Ending of the Year, for chorus and orchestra, was singled out by American Record Guide magazine as the best new piece on Harvard University Choir's CD, Carols from the Yard.  The American Organist magazine has praised his music as "thoughtful, well-wrought, and appealing."
In 2019, Peter Niedmann won the Fyfe Prize—an international competition—for his anthem, Praise Ye the Lord. His hymns and service music are included in 2 hymnals—Wonder, Love, and Praise (Episcopal) and The New Century Hymnal (United Church of Christ).  His music is published by Augsburg-Fortress, GIA, MorningStar, Thorpe-Theodore Presser, Concordia, Paraclete, Sacred Music Press, Lorenz, and Selah. Commissions include: Harvard University Choir; First Presbyterian, Tuscaloosa, AL; First Congregational, Columbus, OH; Christ Church Cathedral, Hartford, CT; American Guild of Organists Convention.
Peter Niedmann was twice awarded conducting fellowships with Sir David Willcocks by The Chorus of Westerly, Rhode Island.  A summa cum laude graduate of the University of Connecticut, where he studied organ with Bach specialist Christa Rakich; he studied piano with Anne Koscielny at the Hartt School of Music. He also holds the AGO Associate and Choir Master certificates.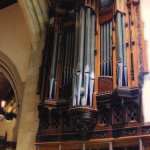 Join us for half-hour organ concerts featuring St. John's magnificent Austin pipe organ, on the first Sunday of the month, January through June, 12:30 p.m. with regional organists. Free!
Music at the Red Door is supported in part by the Richard P. Garmany Fund of the Hartford Foundation for Public Giving, the Edward C. & Ann T. Roberts Foundation, the George A. & Grace L. Long Foundation, the Ensworth Charitable Foundation, the William & Alice Mortensen Foundation, and the Marjorie Jolidon Fund of the Greater Hartford Chapter, American Guild of Organists.