St. John's Episcopal Church
679 Farmington Avenue, West Hartford, CT 06119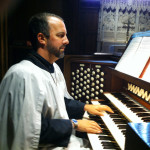 Back by popular demand, the Pipes Alive! series continues with Scott Lamlein playing the St. John's organ on Sunday, April 7 at 12:30 p.m. Scott is Director of Music and Organist at St. John's Episcopal Church, West Hartford, and Artistic Director of its Music at the Red Door concert series.
Program:
BACH: Prelude & Fugue in C minor, BWV 549
BACH: Schmücke dich, O liebe Seele, BWV 654
BLACKMORE: Prelude for Organ: "Tonality for Time" (Premier Performance)
MACDOWELL: To a Wild Rose
COOK: Fanfare
Can't make it? Check out the live stream either during or after the performance: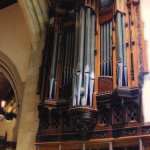 Join us for half-hour organ concerts featuring St. John's magnificent Austin pipe organ, on the first Sunday of the month, January through June, 12:30 p.m. with regional organists. Free!
This concert is supported in part by the Marjorie Jolidon Fund of the Greater Hartford Chapter, American Guild of Organists, and by the Richard P. Garmany Fund of the Hartford Foundation for Public Giving.