St. John's Episcopal Church
679 Farmington Avenue, West Hartford, CT 06119
The Pipes Alive! 2021-2022 series concludes with Christa Rakich playing the St. John's organ on Sunday, June 5, 2022, at 12:30pm. 
The concert is free admission, donations accepted in any amount. Checks payable to Music at the Red Door or click here to donate online.
Registration to attend in person is encouraged.
Please do not register to watch online – click on the link below to watch.

COVID 19: Masks are optional at St. John's. We encourage anyone who is unvaccinated or who is more comfortable wearing a mask to continue to do so.
Learn more about St. John's famed Austin pipe organ.
Click on the image below to watch. Click here for full program pdf.
Program:
David Hurd: Partita on Detroit
Christa Rakich: Hommage à Schumann: Chorale Prelude on Hendon (2022)
J.S. Bach: Fuga à 3 Soggetti (incomplete) from Art of Fugue, BWV 1080
J.S. Bach: Vor deinen Thron, BWV 668
About the Artist:
Concert and recording artist Christa Rakich performs widely throughout North America, Europe, and Japan. She is Visiting Professor of Organ at Oberlin Conservatory. Near her home in Connecticut, she maintains two Artist-in-Residencies: St. John's Episcopal Church in West Hartford and the Congregational Church of Somers. Past Artist-in-Residencies have included the University of Pennsylvania and First Lutheran Church in Boston.
As a Fulbright Scholar, Christa Rakich studied with renowned Bach interpreter Anton Heiller at the Hochschule für Musik in Vienna, Austria. She holds Bachelor's degrees in Organ and German from Oberlin College (Phi Beta Kappa).  After receiving her Master's degree with honors from New England Conservatory, she joined the faculty there, teaching for many years, and serving ultimately as department co-chair. She has also served on the faculties of Westminster Choir College, Brandeis University, and the University of Connecticut, and as Assistant University Organist at Harvard.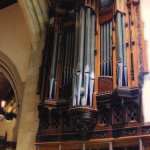 Join us for half-hour organ concerts featuring St. John's magnificent Austin pipe organ, on the first Sunday of the month, November through June, 12:30 p.m. with regional organists. Free!
Music at the Red Door is supported in part by the Richard P. Garmany Fund of the Hartford Foundation for Public Giving, the Edward C. & Ann T. Roberts Foundation, the George A. & Grace L. Long Foundation, the Ensworth Charitable Foundation, the William & Alice Mortensen Foundation, and the Marjorie Jolidon Fund of the Greater Hartford Chapter, American Guild of Organists.