St. John's Episcopal Church
679 Farmington Avenue, West Hartford, CT 06119
Silent Film Steamboat Bill, Jr. by Sacred Music at the Red Door from Kyle S. Reyes on Vimeo.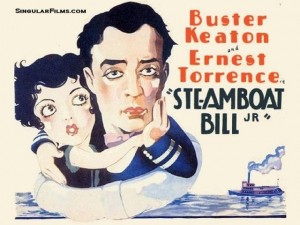 With live piano accompaniment by acclaimed pianist Patrick Miller, enjoy this screening of a classic Buster Keaton silent film, Steamboat Bill Jr.
Buster Keaton (1895-1966), along with Charles Chaplin and Harold Lloyd, is one of the great American silent-film comedians.  Born in Piqua, Kansas, to medicine show performers on the road, Keaton was nicknamed Buster by Harry Houdini who admired the way Keaton at the age of six months had survived unharmed a fall down a flight of stairs at a boardinghouse.  At the age of three, Keaton joined the family acrobatic comedy act and by the age of 21 had established himself as a distinguished vaudeville artist.  In 1917, Keaton entered the movies in a series of comedy shorts starring and directed by Roscoe "Fatty" Arbuckle.  In 1919, Joseph M. Schenck set up a new company to produce a series of comedy shorts starring Keaton.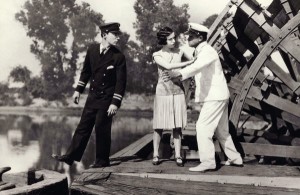 Keaton's first feature comedy film, The Saphead (1920), was a box-office success and established Keaton as a comedy star.  Throughout the 1920's, Keaton appeared in a series of brilliant feature-length comedies, now regarded as screen classics:  Our Hospitality (1923), Sherlock Jr. (1924), Seven Chances (1925), The General (1926), College (1927), Steamboat Bill, Jr. (1928).  Steamboat Bill, Jr. was the last film in which Keaton had writing and directorial control.  Set on the Mississippi River, the film was lavishly produced and contains memorable moments of high comedy, remarkable sequences of dramatic psychology, and concludes with an extraordinary cyclone — hilarious and terrifying — illustrating Keaton's breathtaking comedy skills.
Featured Artist: Patrick Miller, Silent Film Pianist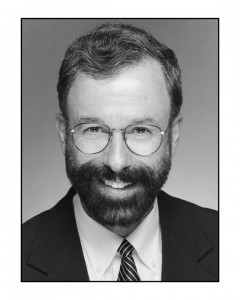 Patrick Miller is Associate Professor of Music Theory at The Hartt School, University of Hartford where he is co-director of the Academic and Contemporary Studies Division and chair of the Music Theory Program. He received his B.Mus. (piano, music theory) and M.Mus. (music theory) from the University of Kansas where he studied piano with Angelica Morales von Sauer. He received his Ph.D. (music theory) from The University of Michigan where he studied music theory with Wallace Berry. Patrick Miller has taught at The University of Michigan, University of North Texas, and Wesleyan University.
Since 1982 Patrick Miller has performed his piano accompaniments for silent film screenings throughout New England with performances at the Wadsworth Atheneum, University of Hartford, University of Connecticut Storrs, Connecticut College, Mount Holyoke College, Trinity College, Wesleyan University, and Yale University. He has studied silent film music at the George Eastman House, the Museum of Modern Art, and the Library of Congress. Patrick Miller has accompanied the masterworks of American and international silent cinema from The Birth of a Nation (D. W. Griffith, 1915 USA) to The Passion of Joan of Arc (Carl Theodor Dreyer, 1928 France).