Hohman.  An audio CD was recorded in the late 1990s by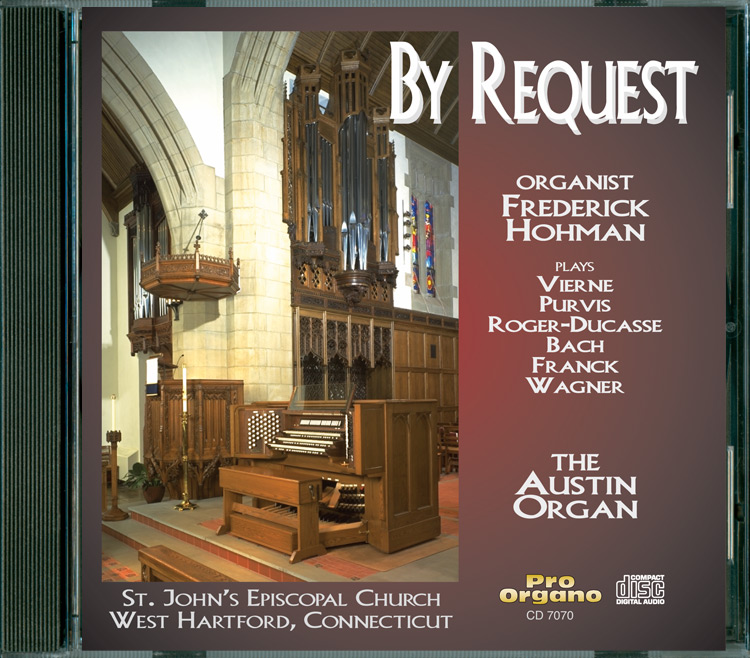 Frederick Hohman. You can listen online here, to a brief sample from Wagner's Ride of the Valkyries performed on the current Austin instrument, as well as place online orders for this delightful collection of music.
Farnam/Watters.  In 1953, the Austin Organs company arranged with St. John's organist Clarence Watters to transfer an Austin Quadraplex roll-player recording of prominent Canadian organist Lynnwood Farnam to long playing records.  This recording utilized the Austin instrument largely lost in the 1992 fire.
Following the recording session, Watters hosted a concert at St. John's utilizing the roll player mechanism (shown below).  The Farnam concert is undoubtedly the most unusual performance ever given at St.  John's because it allowed Farnam, who had been deceased for 23 years, to "return" to "play" pieces by Bach, Handel and others.
The story starts in 1930 with a visit to Hartford by Farnam to help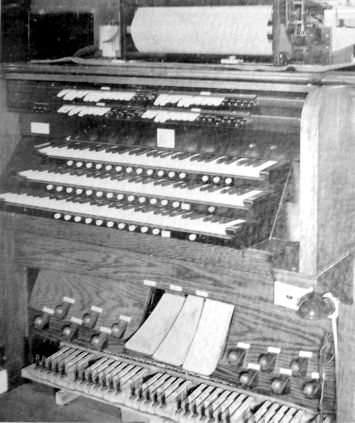 inaugurate the Austin organ in the city's new Bushnell Memorial Hall.  Following the concert, the Austin company invited the organist to record  pieces on paper rolls for use on player organs, cousins to the player pianos popular at that time.  Farnam passed away later that year.
Some twenty years hence, the organ builder's President, Frederic B. Austin, called upon St. John's organist Clarence Watters to assist with a project to move the music represented by the rolls to high fidelity, long playing records.  Watters, who had discussed the roll recording process with his late friend and colleague, agreed to help because, as he told the Hartford Courant, "he wanted to reproduce Farnam's playing for a generation which had never heard him".
As part of the effort, one of Watters' many challenges was working to replicate Farnam's Bushnell organ registrations for the church's Austin instrument. Frederic Austin and Watters worked together to revise an existing Quadraplex roll-playing playing mechanism, which had invented by the company's founder, for the church's organ.  When completed, the unit had two parts: one, which sat on top of the console to operate most of the organ's pipes , and another under the console which temporarily replaced the pedals.  Watters, sitting on the bench, worked the organ's stops and also operated the swell controls as the rolls played.
Following the recording sessions, and with the mechanism still at St. John's, Watters invited the Hartford Chapter of the American Guild of Organists to a special concert to hear Lynnwood Farnam "play" in public one last time.  The concert, held on December seventh, also included works by Karg-Elert, Sowerby, and Vierne.
William Uricchio, November 29, 2010.  Note: Information used for this article came from "Great Organist's Work to be Heard from Roll".  By Mary Goodwin, Hartford Courant, December 6, 1953.  More about Lynnwood Farnam is located at the online Canadian Encyclopedia