St. John's Episcopal Church
679 Farmington Avenue, West Hartford, CT 06119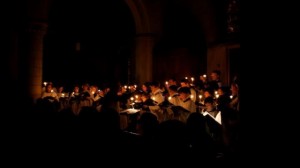 An amazing start to the Advent season, with 220 in attendance!
Check out the printed program by clicking here.
The St. John's Adult and Youth Choirs;
Scott Lamlein, organist and choirmaster.
In the tradition of King's College, Cambridge, prepare your soul for the Christmas miracle with carols for choir and organ. This event is a long-standing tradition at St. John's – a "must" to center your soul during the Advent season.
This concert is free admission, suggested donation $20, no tickets required. A reception follows in the church hall with an art show by local artist Lisa Bell, whose art is inspired by liturgy, music, and scripture.
2016 Event details:
Congregational Hymns: Once in royal David's City (Irby, descant Halley); The first nowell (The First Nowell, descant Willcocks); O come all ye faithful (Adeste Fideles, descant Willcocks)
Carols by the Choir:
Darke: In the bleak midwinter
Poston: Jesus Christ the apple tree
Willcocks: Sussex carol
Vaughan Williams: The blessed Son of God only
Praetorius/Distler: Es ist ein ros' entsprungen
Biebl: Ave Maria
Vaughan Williams: No sad thought his soul affright
Chilcott: Shepherd's Carol
Tavener: The Lamb