St. John's Episcopal Church
679 Farmington Avenue, West Hartford, CT 06119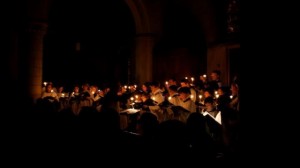 It was a fabulous day with 200 in attendance! Check out the printed program by clicking here.
Download and print: Full-size Poster – Letter-size Poster
The St. John's Adult and Youth Choirs;
Scott Lamlein, director; Floyd Higgins, organ.
In the tradition of King's College, Cambridge, prepare your soul for the Christmas miracle with carols for choir and organ. This event is a long-standing tradition at St. John's – a "must" to center your soul during the Advent season.
Congregational Hymns: Once in royal David's City (Irby, descant Halley); O little town of Bethlehem (Forest Green); O come all ye faithful (Adeste Fideles, descant Willcocks)
Carols by the Choir:
Tomorrow shall be my dancing day (Gardner)
Adam lay ybounden (Ord)
I wonder as I wander (Rutter)
People, look east (Steel)
O little one sweet (Bach)
Ave Maria (Bruckner)
A Christmas lullaby (Forrest)
The shepherds' farewell (Berlioz)
The first nowell (Paulus)
No small wonder (Edwards)
Check out last year's Lessons and Carols here.