St. John's Episcopal Church
679 Farmington Avenue
West Hartford, CT 06119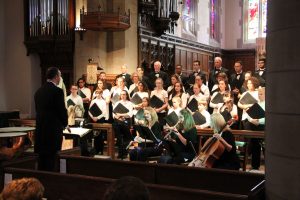 The St. John's Choir School & Adult Choir presents Darkness into Light, including excerpts from Mozart's Requiem, choral, and solo instrumental music, and contemplative readings. Join us on Saturday, March 5 at 3:00pm, in the marvelous acoustics of St. John's Church, with the choir, violinist Leonid Sigal, organist Edward Clark, narrator John Nowacki, and choirmaster Scott Lamlein, for an afternoon or choral music to calm the mind and soothe the soul.
The concert is free admission, suggested donation $20. Checks payable to Music at the Red Door or click here to donate online.
Registration to attend in person is encouraged.
Please do not register to watch online – click on the link below to watch.

Please be advised: At this time, due to the current issues with the COVID 19 virus, masks will be required upon entering and must remain on during the entire performance, and any time you are in the building. Any updates will be sent prior to the day of the concert.
Click below to watch. Click here for full program pdf.

Program:
Jenkins: Even when God is silent
Mozart: from Requiem – Introit, Kyrie, Lacrimosa
Rheinberger: Canzone from Suite for Violin and Organ, Op. 166
Hecht: Bring us peace
Howells: Like as the hart
arr. Moore: We shall walk through the valley
Paulus: The road home
Boykin: John 3:16
Vaughan Williams: The call
Plumstead: A grateful heart
Holst: Chaconne from First Suite for Military Band, Op. 28, No. 1
Rizza: Silent, surrendered
Lauridsen: O nata Lux
Candlyn: Christ whose glory fills the skies
Music at the Red Door is supported in part by the Richard P. Garmany Fund of the Hartford Foundation for Public Giving, the Edward C. & Ann T. Roberts Foundation, the George A. & Grace L. Long Foundation, the Ensworth Charitable Foundation, the William & Alice Mortensen Foundation, and the Marjorie Jolidon Fund of the Greater Hartford Chapter, American Guild of Organists.