St. John's Episcopal Church
679 Farmington Avenue, West Hartford, CT 06119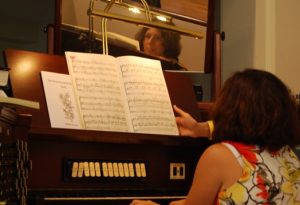 The Pipes Alive! series continues with Angela Salcedo playing the St. John's organ on Sunday, March 6, 2022, at 12:30pm. 
The concert is free admission – donations welcome in any amount. Checks payable to Music at the Red Door or click here to donate online.
Learn more about St. John's famed Austin pipe organ.
About the Artist:
Angela Riccardo Salcedo is the Organ Lecturer at the University of Connecticut, as well as the Director of Music Ministries at First Church of Christ, Congregational, Glastonbury. As a frequent recitalist on organ and harpsichord, Ms. Salcedo currently performs with The Mostly Baroque Players, a Connecticut early music ensemble. Her extensive performance career has included recitals at AGO Conventions and Pipe Organ Encounters, as well as the premier organist for the 2001 Scranton Bach Festival in Pennsylvania and recitalist on the highly acclaimed Summer Evening Organ Concerts at the Old West Church, Boston. Her international studies at the Bach's Organ World Tour of Germany (2010), Academy of Italian Organ Music, Pistoia, Italy (1988) and French Organ Music Seminar, France (1999) have included concerts on various instruments throughout the Tuscany area of Italy as well as Paris, Bordeaux and Toulouse, France. Ms. Salcedo was a first prize winner of the Strader Organ Competition, Cincinnati (1982) and was one of twenty-five organists chosen throughout the country to compete in the 1993 and 1995 National Young Players Competition. Always an active member of the AGO, Ms. Salcedo was instrumental in organizing the first National Organ Competition for High School Students, The L. Cameron Johnson Memorial Organ Competition. Near completion of her Doctor of Musical Arts degree in Organ Performance and Literature at the Eastman School of Music, Ms. Salcedo holds degrees from the New England Conservatory of Music (MM) and The University of Cincinnati, College-Conservatory of Music (BM).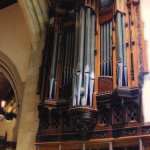 Join us for half-hour organ concerts featuring St. John's magnificent Austin pipe organ, on the first Sunday of the month, November through June, 12:30 p.m. with regional organists. Free!
Music at the Red Door is supported in part by the Richard P. Garmany Fund of the Hartford Foundation for Public Giving, the Edward C. & Ann T. Roberts Foundation, the George A. & Grace L. Long Foundation, the Ensworth Charitable Foundation, the William & Alice Mortensen Foundation, and the Marjorie Jolidon Fund of the Greater Hartford Chapter, American Guild of Organists.