St. John's Episcopal Church
679 Farmington Avenue
West Hartford, CT 06119
Available only by live-stream. Join us for this Hartt@Home Pop-Up Concert featuring internationally recognized performers, cellist Mihai Tetel, and pianist Angelina Gadeliya in an all-Chopin program.

This event is free and is only available by live-stream. Advance registration is required.
Click on the "Sign Up" button to register and receive the link for the concert.
Program:
Frédéric Chopin (1810-1849)
Cello Sonata in G minor, Op. 65
Nocturne in Eb major, Op.9, No. 2
Mazurka in A minor, Op. 17 No. 4
Etude in E minor, Op. 25 No. 5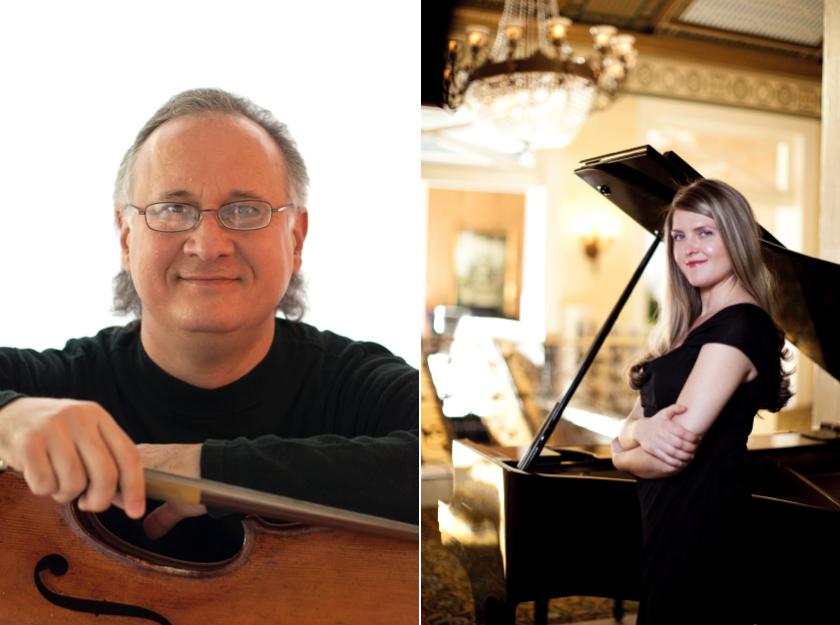 All Hartt@Home online events are free and open to the public.  Audience will gather in Zoom meeting, and the performance will be livestreamed on the Youtube channel of The Hartt School. In order to attend this event on line, please register by visiting the registration form at Hartt@Home #70: Telel/Gadeliya Duo performs Chopin by noon on Saturday May 15. Meeting and livestream links will be emailed to all registered listeners 24 hours before the event.
Hartt@Home is an audience development initiative of the Board of Trustees of the Julius Hartt Musical Foundation, Inc.. In conjunction with the Hartt 100 celebration of the first 100 years of The Hartt School, Hartt@Home brings together exceptional student, faculty and alumni performers with friends of The Hartt School who host performances in their homes and occasionally in public venues. Hartt@Home programs are offered completely online during the Covid-19 pandemic. A host sponsors a performance, engaging social networks comprising friends, family, business associates, and acquaintances. All listeners participate from the safety of their homes or other safe place.  The social/musical atmosphere is relaxed, where and audience experiences the outstanding artistry that characterizes The Hartt School. Hartt@Home is building audiences for Hartt School, serving the professional needs of emerging student artists, and rekindling and deepening relationships with Hartt alumni – one living room or Zoom meeting at a time. For information on hosting a Hartt@Home event, contact us at hartthome@hartford.edu. "
Music at the Red Door is supported in part by the Richard P. Garmany Fund of the Hartford Foundation for Public Giving, the Edward C. & Ann T. Roberts Foundation, the George A. & Grace L. Long Foundation, the Ensworth Charitable Foundation, the William & Alice Mortensen Foundation, and the Marjorie Jolidon Fund of the Greater Hartford Chapter, American Guild of Organists.