St. John's Episcopal Church
679 Farmington Avenue, West Hartford, CT 06119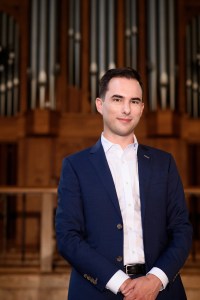 The Pipes Alive! series continues with Christopher Houlihan playing the St. John's organ on Sunday, January 2, 2022, at 12:30pm. 
The concert is free admission – donations welcome in any amount. Checks payable to Music at the Red Door or click here to donate online.
Learn more about St. John's famed Austin pipe organ.
About the Artist:
The organist Christopher Houlihan has established an international reputation as an "intelligently virtuoso musician" (Gramophone), hailed for his "glowing, miraculously life-affirming performances" (Los Angeles Times).
Houlihan has performed at Disney Concert Hall with principal brass of the Los Angeles Philharmonic; the Kimmel Center in Philadelphia, and at the Kennedy Center in Washington, D.C. The Los Angeles Times raved about his Disney Hall debut, "Houlihan is the next big organ talent." He has been featured as soloist with the Hartford Symphony, Columbus (GA) Symphony, and the Boston Chamber Orchestra.
Christopher Houlihan has appeared in recital at celebrated venues across North America and Europe and has performed at numerous conventions of the American Guild of Organists and the Organ Historical Society. His "Vierne2012" tour attracted international attention and critical acclaim for his performances Louis Vierne's six organ symphonies in six major North American cities. The Los Angeles Times called his performance there "a major surprise of the summer, a true revelation."
Since 2017, Houlihan has served as the John Rose College Organist-and-Directorship Distinguished Chair of Chapel Music at Trinity College in Hartford, Connecticut. He was previously Director of Music and Organist at the Church of the Holy Apostles in Manhattan.
In addition to his studies at Trinity, he studied with the Grammy Award-winning organist Paul Jacobs at The Juilliard School and with Jean-Baptiste Robin at the French National Regional Conservatory in Versailles.
More information is at ChristopherHoulihan.com.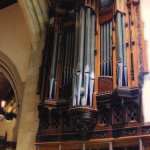 Join us for half-hour organ concerts featuring St. John's magnificent Austin pipe organ, on the first Sunday of the month, November through June, 12:30 p.m. with regional organists. Free!
Music at the Red Door is supported in part by the Richard P. Garmany Fund of the Hartford Foundation for Public Giving, the Edward C. & Ann T. Roberts Foundation, the George A. & Grace L. Long Foundation, the Ensworth Charitable Foundation, the William & Alice Mortensen Foundation, and the Marjorie Jolidon Fund of the Greater Hartford Chapter, American Guild of Organists.