St. John's Episcopal Church
679 Farmington Avenue, West Hartford, CT 06119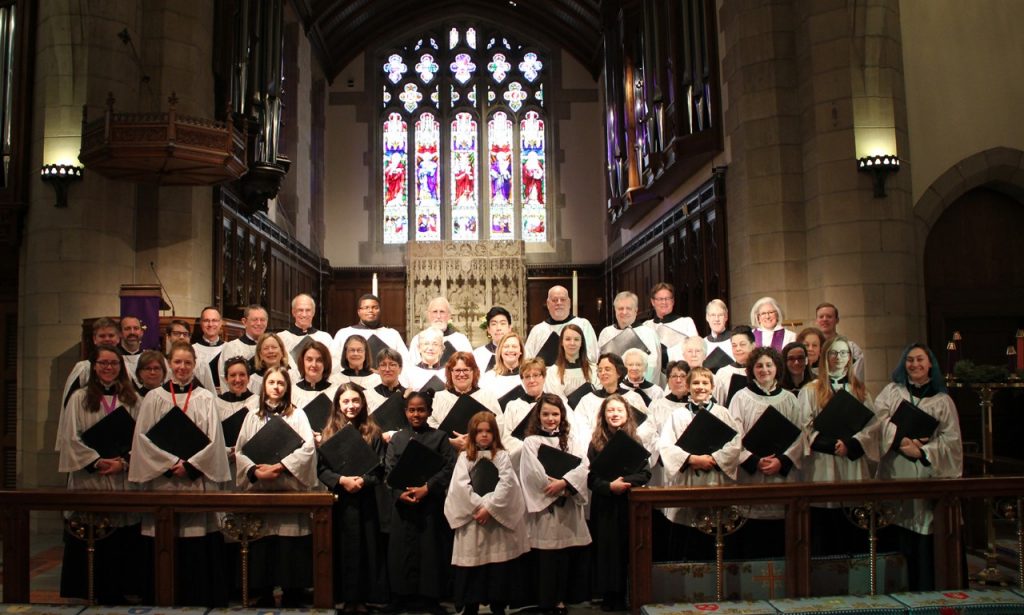 A holiday celebration of the return of choral music! An amazing start to the Advent season! In the tradition of King's College, Cambridge, prepare your soul for the Christmas miracle with carols for choir and organ. This event is a long-standing tradition at St. John's – a "must" to center your soul during the Advent season. Sunday, December 12 at 3:00pm.
The St. John's Adult and Youth Choirs; Scott Lamlein, choirmaster; Floyd Higgins, organist.
This concert is free admission, with donations received, no tickets required. A reception follows in the church hall.
Details of last year's event:
Click here for last year's PDF leaflet, which includes full texts of the readings and music.
Program:
George Baker (b. 1951): Berceuse on the name "Swann"
Once in royal David's City; Cate Emerick and Britt Emerick, soloists
Zanaida Robles (b. 1979): Prepare the way; Brendon Gallagher, soloist
John Joubert (1927-2019): Torches
Arr. Norman Luboff (1917-1987): Still, still, still
Arr. Robert Hugh (b. 1957): In the bleak midwinter
David Conte (b. 1955): Ave Maria
Trad. Normandy: Away in a manger; Erica Shippee, soloist
Hector Berlioz (1803-1869): Shepherd's Farewell
Harold Friedell (1905-1958): Saw you never in the twilight
Paul Edwards (b. 1955): No small wonder
O Come All Ye Faithful; Cate Emerick and Britt Emerick, soloists
Louis Vierne (1870-1937): Carillon de Longpont
Music at the Red Door is supported in part by the Richard P. Garmany Fund of the Hartford Foundation for Public Giving, the Edward C. & Ann T. Roberts Foundation, the George A. & Grace L. Long Foundation, the Ensworth Charitable Foundation, the William & Alice Mortensen Foundation, and the Marjorie Jolidon Fund of the Greater Hartford Chapter, American Guild of Organists. 
Check out previous year's Lessons and Carols: 2020201920182017 2016  2015 2014