St. John's Episcopal Church
679 Farmington Avenue
West Hartford, CT 06119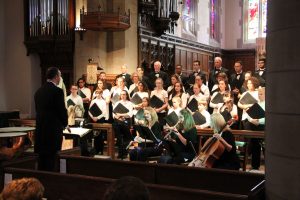 The St. John's Choir of Youth & Adults presents Mozart's final masterpiece on Saturday, March 5 at 3:00pm. In the marvelous acoustics of St. John's Church, the choir is joined by full orchestra and organist Edward Clark for an afternoon or choral music to calm the mind and soul.
The concert is free admission, suggested donation $20. Checks payable to Music at the Red Door.
A reception follows in the church hall.
Full program to be announced soon.
The St. John's Choir of Youth & Adults with orchestra
Scott Lamlein, choirmaster
Edward Clark, organist
Music at the Red Door is supported in part by the Richard P. Garmany Fund of the Hartford Foundation for Public Giving, the Edward C. & Ann T. Roberts Foundation, the George A. & Grace L. Long Foundation, the Ensworth Charitable Foundation, the William & Alice Mortensen Foundation, and the Marjorie Jolidon Fund of the Greater Hartford Chapter, American Guild of Organists.