St. John's Episcopal Church
679 Farmington Avenue, West Hartford, CT 06119
The Pipes Alive! series continues with students of Scott Lamlein playing the St. John's organ on Sunday, April 3, 2022, at 12:30pm. 
The concert is free admission – donations welcome in any amount. Checks payable to Music at the Red Door or click here to donate online.
Learn more about St. John's famed Austin pipe organ.
About the Artists:
Roster to be determined – current organists from Scott Lamlein's organ studio. Come, enjoy, and support the progress of these fine players!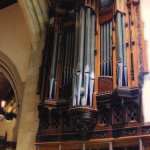 Join us for half-hour organ concerts featuring St. John's magnificent Austin pipe organ, on the first Sunday of the month, November through June, 12:30 p.m. with regional organists. Free!
Music at the Red Door is supported in part by the Richard P. Garmany Fund of the Hartford Foundation for Public Giving, the Edward C. & Ann T. Roberts Foundation, the George A. & Grace L. Long Foundation, the Ensworth Charitable Foundation, the William & Alice Mortensen Foundation, and the Marjorie Jolidon Fund of the Greater Hartford Chapter, American Guild of Organists.