St. John's Episcopal Church
679 Farmington Avenue
West Hartford, CT 06119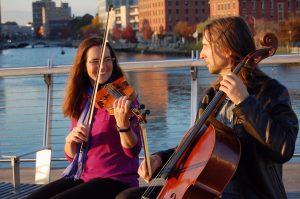 Join us for a beautiful chamber music concert on Friday, April 22, 2022 at 7:30pm by the Larksgrove Duo: EmmaLee Holmes-Hicks, violin, and Peter Zay, cello.
The concert is free admission, suggested donation $20. Checks payable to Music at the Red Door or click here to donate online.
Registration to attend in person is encouraged.
Please do not register to watch online – click on the link below to watch.

COVID 19: Masks are optional at St. John's. We encourage anyone who is unvaccinated or who is more comfortable wearing a mask to continue to do so.
Click below to watch. Click here for full program pdf.

Program:
Valley of the Moon Reel – Alasdair Fraser & Natalie Haas
Sonata for Violin Solo and Cembalo in D Major – George Frederick Handel (1655-1759)
Tune Set:
—Tom Kruskals
—Down The Brae
—The Meeting of The Waters
Duo for Violin and Cello – Jessie Montgomery (b. 1981)
—Meandering
—Dirge
—Presto
Jigs:
—The Little Burnt Potato
—Rock Valley Jig
—Smash the Windows
Reel Set:
—Red Prairie Dawn
—The Golden Ticket
Suite for Two for Violin and Cello – Andy Stein
—Hoedown
—Waltz
—Salsa
Jigs:
—Coffee
—Unnamed Jig
—Calliope House
Through their innovative blending of classical and traditional forms, Larksgrove brings a fresh voice to the musical scene. Peter Zay, cello and guitar, and EmmaLee Holmes-Hicks, violin and fiddle, present unique interpretations of the classics and inventive arrangements of traditional tunes. Equally at home on the concert stage and in the dance hall, Larksgrove exhibit inspired collaboration at its best.
Learn more at the duo's website, and check out the preview videos below.
Music at the Red Door is supported in part by the Richard P. Garmany Fund of the Hartford Foundation for Public Giving, the Edward C. & Ann T. Roberts Foundation, the George A. & Grace L. Long Foundation, the Ensworth Charitable Foundation, the William & Alice Mortensen Foundation, and the Marjorie Jolidon Fund of the Greater Hartford Chapter, American Guild of Organists.