St. John's Episcopal Church
679 Farmington Avenue, West Hartford, CT 06119
Available in-person to a limited audience and live-streamed. The Pipes Alive! series continues with Edward Clark playing the St. John's organ on Sunday, May 2, 2021 at 12:30pm. 

This event will be live-streamed, and will be available in-person to a limited audience, with social distancing. Tickets are required for entry. Please read the COVID-19 protocols and procedures below before attending.
The concert is free admission, suggested donation $20. Checks payable to Music at the Red Door or click here to donate online.
No registration required to watch online – simply return to this page.
Click here for the printed program.
Click below to watch.
Program:
Music by American Organists/Composers from 1767 to 1907
William Selby (1738-1798): Voluntary in A Major (1767)
Benjamin Carr (1768-1831): Variations to the Sicilian Hymn (1805)
Dudley Buck (1839-1909): Two pieces from 18 Studies in Pedal Phrasing, Op. 28 (1868)
__Andante Espressivo, Book 1, No. 2
__Old Hundredth, Book 1, No. 8
Dudley Buck: Festival Prelude (Introducing a Choral Theme from Palestrina) (1896)
Nathan Hale Allen (1848-1925): Meditation (1896)
Harry Rowe Shelley (1858-1947): Scherzo (1879)
Harry Rowe Shelley: Melody in A Flat (1907)
George E. Whiting (1840-1924): Toccatina, Op. 57. No.6 (1907)
For COVID-19 Safety, the following protocols are in place for those attending in person:
Wear a mask over your mouth and nose at all times. Masks are required regardless of vaccine status. We have disposable masks should you need one.
Practice social distancing at all times. Observe signs and the directions of ushers about where to sit. Greet one another from a distance, do not linger in the building after the ushers have dismissed you.
If you might need to get up during the concert, please sit on the right side of the nave. The first-floor restrooms are available should you need them. Please refrain from going into other areas of the building.
Children must stay with their accompanying adult(s).
Entry is through the main red doors only, so park accordingly.
Please do not leave your seat until directed by an usher; exiting will happen row-by-row starting from the rear of the hall.
Exit is through the red doors or the side door into the cloister, as directed by an usher.
There will not be a meet-the-artist reception. Any social time must happen outside.
You may leave your donation in the basket in the center aisle. We can also receive donations through the mail or online. Thank you!
About the Artist:
Edward Clark received his Bachelor's Degree from Tufts University and his Master of Sacred Music Degree from Union Theological Seminary's School of Sacred Music. He studied organ with Claire Coci and Mildred Andrews and harpsichord with Eugenia Earle and Davitt Moroney. Mr. Clark has been Minister of Music at the historic First Church of Christ, Congregational, Farmington since 1965. He is organist for the Hartford Symphony Orchestra and has been featured in the symphony's performances of the Saint-Saens Organ Symphony. For over twenty years he was a member of the organ and harpsichord faculty at the Hartt School of Music, University of Hartford. He has recently rejoined the Hartt faculty teaching continuo playing courses. He has made frequent appearances with the CT Virtuosi Chamber Orchestra, Arcadia Players Baroque Orchestra, the Springfield Symphony, Orchestra New England, the Hartford Chorale, CONCORA, Chorus Angelicus and the Connecticut Choral Society as well as with numerous church choirs. He has performed in recital and with chamber music groups throughout the Northeast. Mr. Clark has been active in the American Guild of Organists, serving as Dean of the Hartford Chapter, education and exam coordinator, judge for local and regional young organist competitions, and currently as the newsletter editor/publisher. He is a founding member of the United Church of Christ Musician's Association, has edited and published program books for its biennial summer conferences and serves as its webmaster. Mr. Clark has made a number of trips studying historic organs of Argentina, Mexico, Italy, Germany, the Netherlands, and Scandinavia. His home instrument collection includes a two manual Franco-Flemish style harpsichord by Carl Fudge, a single manual south German style harpsichord by Carl Dudash, a lautenwerk converted from a Zuckerman Flemish harpsichord, a Hubert style clavichord built by Mr. Clark from a Carl Fudge kit, a Klop continuo organ, a three maunal Hauptwerk virtual organ, and a Baldwin grand piano.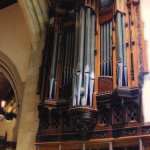 Join us for half-hour organ concerts featuring St. John's magnificent Austin pipe organ, on the first Sunday of the month, January through June, 12:30 p.m. with regional organists. Free!
Music at the Red Door is supported in part by the Richard P. Garmany Fund of the Hartford Foundation for Public Giving, the Edward C. & Ann T. Roberts Foundation, the George A. & Grace L. Long Foundation, the Ensworth Charitable Foundation, the William & Alice Mortensen Foundation, and the Marjorie Jolidon Fund of the Greater Hartford Chapter, American Guild of Organists.