St. John's Episcopal Church
679 Farmington Avenue
West Hartford, CT 06119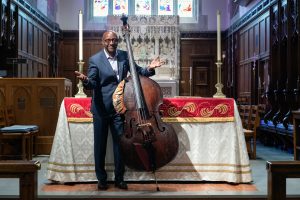 An evening of incredible jazz! Join us on Friday, May 14 at 7:30pm, in the marvelous acoustics of St. John's Church, for a with the inimitable Nat Reeves Quartet: Nat Reeves, bass; Rick Germanson, piano; Eric McPherson, drums; Tony Davis, guitar.
The concert is free admission, suggested donation $20. Checks payable to Music at the Red Door.
A reception follows in the church hall.
Music at the Red Door is supported in part by the Richard P. Garmany Fund of the Hartford Foundation for Public Giving, the Edward C. & Ann T. Roberts Foundation, the George A. & Grace L. Long Foundation, the Ensworth Charitable Foundation, the William & Alice Mortensen Foundation, and the Marjorie Jolidon Fund of the Greater Hartford Chapter, American Guild of Organists. 
During the past 30 years, Nat Reeves has been one of the top bassists in jazz. His supportive and stimulating playing has uplifted a countless number of sessions and recording dates (most notably with the great altoists Jackie McLean and Kenny Garrett). Both as a performer and an educator, he has made a strong impact on the jazz world.