St. John's Episcopal Church
679 Farmington Avenue, West Hartford, CT 06119
Available in-person to a limited audience and live-streamed. The Pipes Alive! series continues with Sean McCarthy playing the St. John's organ on Sunday, June 6, 2021 at 12:30pm. 

This event will be live-streamed, and will be available in-person to a limited audience, with social distancing. Tickets are not required for entry. Please read the COVID-19 protocols and procedures below before attending.
The concert is free admission – donations welcome in any amount. Checks payable to Music at the Red Door or click here to donate online.
Learn more about St. John's famed Austin pipe organ.
No registration required to watch online – simply return to this page.
Click below to watch. Click here for the printed program.
Program:
Sean McCarthy: Prelude on "Highland Cathedral"
Josef Rheinberger (1839-1901): Sonata No. 4 in A minor, Op. 98, Tempo moderato
Juan Cabanilles (1644-1712): Corrente Italiana
Théodore Dubois (1837-1924): Alleluia from Douze Piéces Nouvelles
Gustave Holst (1874-1934) arr. Eric Thiman: I Vow to Thee, My Country
__Performed in memory of Robert "Bob" Skeele, 1930-2020
Jehan Alain (1911-1940): Litanies
For COVID-19 Safety, the following protocols are in place for those attending in person:
Wear a mask over your mouth and nose at all times. Masks are required regardless of vaccine status. We have disposable masks should you need one.
Practice social distancing at all times. Observe signs and the directions of ushers about where to sit. Greet one another from a distance, do not linger in the building after the ushers have dismissed you.
Children must stay with their accompanying adult(s).
Entry is through the main red doors only, so park accordingly.
There will not be a meet-the-artist reception. Any social time must happen outside.
You may leave your donation in the basket in the center aisle. We can also receive donations through the mail or online. Thank you!
About the Artist:
Sean McCarthy is Director of Music and Organist at First Church of Christ in Wethersfield, CT. He holds a Doctor of Musical Arts degree in Organ Performance from the Benjamin T. Rome School of Music at the Catholic University of America in Washington, DC. Notable concert appearances include recitals at the Basilica of the Shrine of the Immaculate Conception (Washington, DC), the Cathedral of Mary Our Queen, (Baltimore, MD), National Presbyterian Church (Washington, DC), First Presbyterian Church (Atlanta, GA), and Trinity Cathedral (Trenton, NJ). His recordings have won critical acclaim in Fanfare and American Record Guide review journals and have been featured nationally on NPR's Pipedreams programs from National Public Media. He and his wife Eve reside in Redding, CT.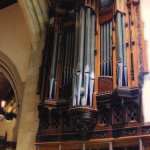 Join us for half-hour organ concerts featuring St. John's magnificent Austin pipe organ, on the first Sunday of the month, January through June, 12:30 p.m. with regional organists. Free!
Music at the Red Door is supported in part by the Richard P. Garmany Fund of the Hartford Foundation for Public Giving, the Edward C. & Ann T. Roberts Foundation, the George A. & Grace L. Long Foundation, the Ensworth Charitable Foundation, the William & Alice Mortensen Foundation, and the Marjorie Jolidon Fund of the Greater Hartford Chapter, American Guild of Organists.