St. John's Episcopal Church
679 Farmington Avenue, West Hartford, CT 06119
Join us on Sunday, March 11, at 4:00 p.m. for our second Choral Music for the Soul concert!
The St. John's Youth and Adult Choirs join with the Choirs of St. Paul's-on-the-Green, Norwalk in presenting the sublime Requiem by Gabriel Fauré, with organ and chamber orchestra. Disconnect from the outside world, and connect with the sacred, in this concert that also includes a solo organ work and music for the children's choirs, the newly-composed "Visions" by John Rutter.
This concert is free and open to the public – all are welcome with no tickets required.  Suggested donation: $20
A reception will follow the concert.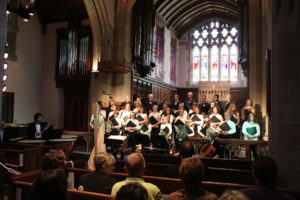 The organ portion of this concert is supported in part by the Marjorie Jolidon Fund of the Greater Hartford Chapter, American Guild of Organists.