St. John's Episcopal Church
679 Farmington Avenue, West Hartford, CT 06119
VIDEO ONLY. During the COVID-19 self isolation, we are presenting brief live-stream-only recitals on Wednesdays at 12:15.
St. John's Organ Artist-in-residence Christa Rakich performs for us on Wednesday, May 27 at 12:15 in her home studio. Missed it? No problem! After the concert, you can watch the concert at any time at this same link.
Music at the Red Door os hosting online recitals as a benefit for people in Greater Hartford deeply affected by COVID-19: please help. Please thank our artists by donating generously to: Loaves & Fishes, Journey Home, and/or Food Share. At St. John's, we have only limited resources to help the homeless and hungry, and with the office closed, we are not able to see people directly. Your donation will make a big difference.
Program:
Johann Sebastian Bach (1685-1750): Inventions, Part 2
Performed on Christa's clavichord:
5-octave (FF-g"') unfretted clavichord after Schiedmayer, made in 1976 by Tom Wolf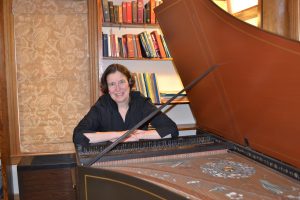 Concert and recording artist Christa Rakich performs widely throughout North America, Europe, and Japan. She is Visiting Professor of Organ at Oberlin Conservatory in Ohio through the academic year 2019-2020. Near her home in Connecticut, she maintains two Artist-in-Residencies: St. John's Episcopal Church in West Hartford and the Congregational Church of Somers. Past Artist-in-Residencies have included the University of Pennsylvania and First Lutheran Church in Boston.
As a Fulbright Scholar, Christa Rakich studied with renowned Bach interpreter Anton Heiller at the Hochschule für Musik in Vienna, Austria. She holds Bachelor's degrees in Organ and German from Oberlin College (Phi Beta Kappa).  After receiving her Master's degree with honors from New England Conservatory, she joined the faculty there, teaching for many years, and serving ultimately as department co-chair. She has also served on the faculties of Westminster Choir College, Brandeis University, and the University of Connecticut, and as Assistant University Organist at Harvard.
For more: Subscribe to our YouTube channel or follow us on Facebook to receive the most up-to-date info, and sign up for email updates.
Music at the Red Door is supported in part by the Richard P. Garmany Fund of the Hartford Foundation for Public Giving, the Edward C. & Ann T. Roberts Foundation, the George A. & Grace L. Long Foundation, the Ensworth Charitable Foundation, the William & Alice Mortensen Foundation, and the Marjorie Jolidon Fund of the Greater Hartford Chapter, American Guild of Organists.