St. John's Episcopal Church
679 Farmington Avenue, West Hartford, CT 06119
VIDEO ONLY. During the COVID-19 self-isolation, we are presenting brief live-stream-only recitals on Wednesdays at 12:15 during the month of November.
Organist Edward Clark performs for us on Wednesday, November 11, at 12:15 in his home studio. Ed will play five different virtual organs from the 17th through the 20th century, ending with a Ragtime March & Two Step including a slideshow of historic photos from the 1904 St. Louis World's Fair.
Missed it? No problem! After the concert, you can watch the concert at any time at this same link.
Music at the Red Door is presenting online recitals as a benefit for people in Greater Hartford deeply affected by COVID-19: please help. Please thank our artists by donating generously to: Loaves & Fishes, Journey Home, and/or Food Share. At St. John's, we have only limited resources to help the homeless and hungry, and with the office closed, we are not able to see people directly. Your donation will make a big difference.
Click below to watch.
Program:
An Organ Crawl at Home: a brief tour of five virtual organs
César Franck (1822-1890): Vieux Noël
Johann Sebastian Bach (1685-1750):
Nun freut euch, lieben Christen gmein, BWV 734a
Vater unser Im Himmelreich, BWV 762
Jean-François Dandrieu (1682-1738): Basse de Cromorne, Dialogue
Anonymous: 16th Century Folksong from a Tablature Book
W. C. Powell (1876-1939): Funny Folks, a Ragtime March & Two Step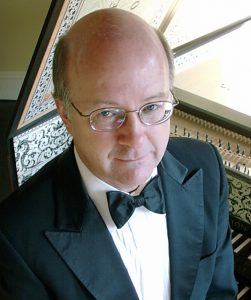 Edward Clark received his Bachelor's Degree from Tufts University and his Master of Sacred Music Degree from Union Theological Seminary's School of Sacred Music. He studied organ with Claire Coci and Mildred Andrews and harpsichord with Eugenia Earle and Davitt Moroney. Mr. Clark has been Minister of Music at the historic First Church of Christ, Congregational, Farmington since 1965. He is organist for the Hartford Symphony Orchestra and has been featured in the symphony's performances of the Saint-Saens Organ Symphony. For over twenty years he was a member of the organ and harpsichord faculty at the Hartt School of Music, University of Hartford. He has recently rejoined the Hartt faculty teaching continuo playing courses. He has made frequent appearances with the CT Virtuosi Chamber Orchestra, Arcadia Players Baroque Orchestra, the Springfield Symphony, Orchestra New England, the Hartford Chorale, CONCORA, Chorus Angelicus and the Connecticut Choral Society as well as with numerous church choirs. He has performed in recital and with chamber music groups throughout the Northeast. Mr. Clark has been active in the American Guild of Organists, serving as Dean of the Hartford Chapter, education and exam coordinator, judge for local and regional young organist competitions, and served as the newsletter editor/publisher for thirty years. He is a founding member of the United Church of Christ Musician's Association, has edited and published program books for its biennial summer conferences and serves as its webmaster. Mr. Clark has made a number of trips studying historic organs of Argentina, Mexico, Italy, Germany, the Netherlands, and Scandinavia. His home instrument collection includes a two manual Franco-Flemish style harpsichord by Carl Fudge, a single manual south German style harpsichord by Carl Dudash, a lautenwerk converted from a Zuckerman Flemish harpsichord, a Hubert style clavichord built by Mr. Clark from a Carl Fudge kit, a Klop continuo organ, a three maunal Hauptwerk virtual organ, and a Baldwin grand piano.
For more: Subscribe to our YouTube channel or follow us on Facebook to receive the most up-to-date info, and sign up for email updates.
Thank you for joining us for our Wednesday Online Recital Series, and for your generous donations to our local organizations that support the homeless and hungry in Greater Hartford.
Music at the Red Door is supported in part by the Richard P. Garmany Fund of the Hartford Foundation for Public Giving, the Edward C. & Ann T. Roberts Foundation, the George A. & Grace L. Long Foundation, the Ensworth Charitable Foundation, the William & Alice Mortensen Foundation, and the Marjorie Jolidon Fund of the Greater Hartford Chapter, American Guild of Organists.