St. John's Episcopal Church
679 Farmington Avenue
West Hartford, CT 06119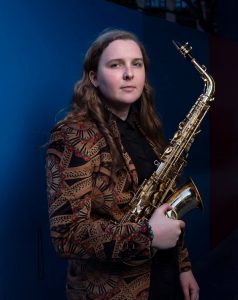 Join us on Saturday, February 12 at 7:30pm, in the marvelous acoustics of St. John's Church, for an evening of incredible jazz with the Sarah Hanahan Quartet. Snow date: Saturday, February 19, at 7:30pm.
The concert is free admission, suggested donation $20. Checks payable to Music at the Red Door or click here to donate online.
Registration to attend in person is encouraged.
Please do not register to watch online – click on the link below to watch.

Please be advised: At this time, due to the current issues with the COVID 19 virus, masks will be required upon entering and must remain on during the entire performance, and any time you are in the building. Any updates will be sent prior to the day of the concert.
Click below to watch. Click here for full program pdf.
Program:
Ferde Grofe: On the Trail
Rene McLean: Dance Little Mandissa
Walter Bolton: Mr. AT
Mal Waldron: Left Alone
Sarah Hanahan: Here for Jackie
Anders Fryxell: Dear Old Stockholm
Juan Tizol: Perdido
Jackie McLean: Minor March
Sarah Hanahan is an up-and-coming jazz saxophonist in New York City and is currently pursuing her Masters Degree in Jazz performance at The Juilliard School. Now a resident of New York City but originally from Marlborough, Massachusetts, Sarah grew up listening to a wide variety of music, but always had a special love for jazz.  In 2015, Sarah was awarded a full scholarship to study jazz performance at the Jackie McLean Institute of Jazz within the Hartt School of Music (University of Hartford).  Her college professors include well-known jazz Masters Nat Reeves, Steve Davis, Abraham Burton, Rene McLean, and Javon Jackson.
In the fall of 2020, Sarah started her Masters Degree program at the prestigious Juilliard School in New York City. She is focusing on Jazz performance and is studying with some of the best musicians in the business including Bruce Williams, Ron Blake, Kenny Washington, Marc Cary and others.  Recently Sarah has been working with Sherrie Maricle and the Diva Jazz Orchestra playing second alto and touring nationwide. She has also been working with Jason Moran as part of a collaboration with the Kennedy Center in Washington DC. Sarah lives in NYC and can be found playing at various clubs in the city including Birdland, Smalls Jazz Club, Dizzy's Club and others!
Music at the Red Door is supported in part by the Richard P. Garmany Fund of the Hartford Foundation for Public Giving, the Edward C. & Ann T. Roberts Foundation, the George A. & Grace L. Long Foundation, the Ensworth Charitable Foundation, the William & Alice Mortensen Foundation, and the Marjorie Jolidon Fund of the Greater Hartford Chapter, American Guild of Organists.