St. John's Episcopal Church
679 Farmington Avenue, West Hartford, CT 06119
Rick Erickson, organ and harpsichord.
Johann Sebastian Bach's Art of Fugue with hauntingly beautiful dance interpretation by a renowned troupe based in New York.
Co-sponsored by the Hartford Chapter, American Guild of Organists.
Check out the preview video:
Description of SYREN Modern Dance: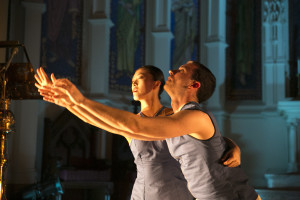 SYREN Modern Dance is a New York based modern dance company with a history of bringing music and dance to international audiences for over a decade. "The Art of Fugue" recently premiered in NYC at Holy Trinity Lutheran Church and audiences were "transported out of the grind of day to day life into this truly immersive work of beauty". The dance was created at Holy Trinity itself, with Bach's The Art of Fugue as the centerpiece of the production. The dance explores definitions of beauty while searching for its existence in a world filled with media, speed, detachment, and exploitation. Modern dance movements range from large, sweeping runs and leaps to small intricate arm gestures and partnering work. The live organ accompaniment heightens the senses, evoking imagery and inspiring movement from every crevice, step, and pillar. The piece was created to be adapted in various spaces, with the central movement ideas allowing for re-adaption of spatial arrangements, levels, use of aisles and other specific details that differ from space to space.
The Art of Fugue is choreographed by Kate St. Amand and is performed by Rick Erickson, Donald Meineke, Sonja Dale, Jean-René Homehr, Xuexin (Nico) Li, Darcie Perkins, Lynn Peterson.
SYREN Modern Dance is a New York based company founded in 2003 by Lynn Peterson and Kate St. Amand. Using live music and collaborations with visual artists, they bring vivid work to audiences from New York to Paris. SYREN has been presented at Jacob's Pillow Dance Festival, Symphony Space, Dance Theater Workshop, Green Space, Cité Universitaire, The Riverside Theatre, and Queens Theatre in the Park, among others. It has been supported by grants from NYC's Department of Cultural Affairs, Queens Council on the Arts, Harkness Space Grants (92nd Street Y), residencies at DanceNOW/NYC's Silo and DTW's Outer/Space, and was commissioned by Purchase College. Central to SYREN's mission is pairing vigorous motion with live onstage music to bring dance back to where it started – in dialogue with live music. SYREN has collaborated with Galeet Dardashti, Artemis Chamber Ensemble, Steeplechase Arts & Productions, Lauren Cregor Devine, and Yonah Zur to bring numerous performances to the public that feature dance with live music. SYREN has worked with students at Purchase College, Mark Morris Dance Center, Yale University, Nutmeg Conservatory for the Arts, Greater Hartford Academy of the Arts, and Westminster School, among others. For five years, SYREN has enjoyed engaging in "Dance on Canvas", a Partnership with the Art Students League of NY where visual artists capture the company's dynamic motion through sketch sessions. www.syrendance.org