St. John's Episcopal Church
679 Farmington Avenue, West Hartford, CT 06119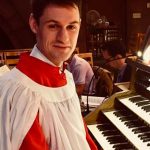 Back by popular demand, the Pipes Alive! series continues with Jackson Merrill playing the St. John's organ on Sunday, May 5 at 12:30 p.m. Jackson is organist and choirmaster at Trinity Episcopal Church, Hartford.
Program:
Claude Balbastre – Joseph est bien marie
Louis Vierne – Berceuse from 24 Pièces en style libre
Vierne – Choral  from 24 Pièces en style libre
Cesar Franck – Choral No. 1 in E
Click here for printed program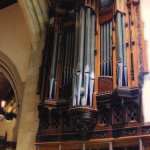 Join us for half-hour organ concerts featuring St. John's magnificent Austin pipe organ, on the first Sunday of the month, January through June, 12:30 p.m. with regional organists. Free!
This concert is supported in part by the Marjorie Jolidon Fund of the Greater Hartford Chapter, American Guild of Organists, and by the Richard P. Garmany Fund of the Hartford Foundation for Public Giving.