St. John's Episcopal Church
679 Farmington Avenue, West Hartford, CT 06119
Missed it? Listen online now…
All Podcasts: Podcast People – iTunes
Sunday, December 10 at 3:00 p.m. – click here for the service leaflet.
An amazing start to the Advent season – arrive early to get a good seat!
The St. John's Adult and Youth Choirs;
Scott Lamlein, choirmaster; Floyd Higgins, organist
In the tradition of King's College, Cambridge, prepare your soul for the Christmas miracle with carols for choir and organ. This event is a long-standing tradition at St. John's – a "must" to center your soul during the Advent season.
This concert is free admission, with donations received, no tickets required. A reception follows in the church hall.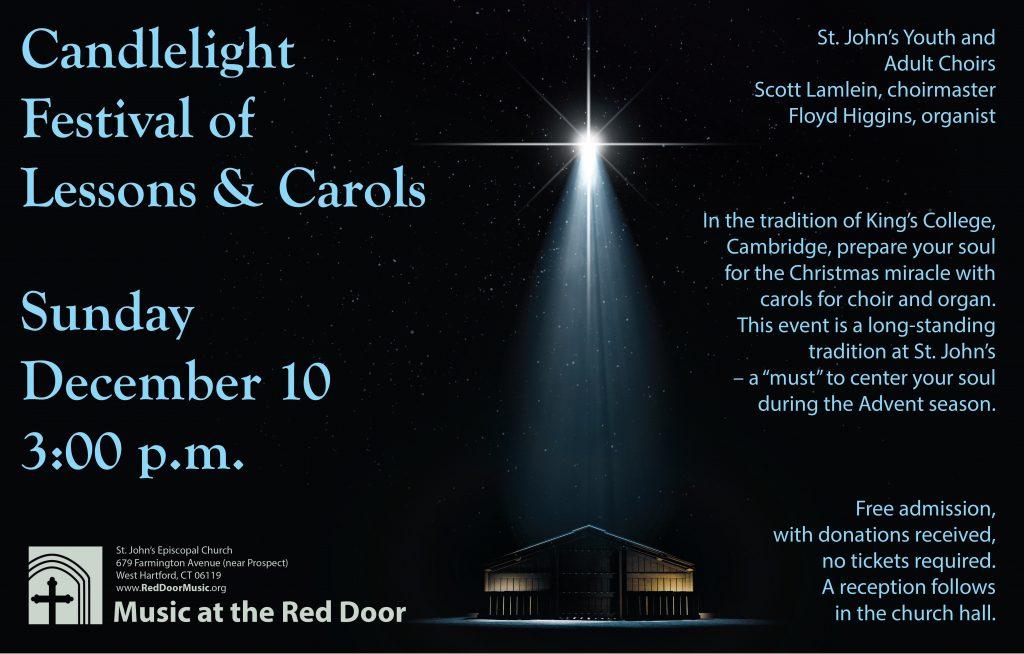 To download a PDF poster, click here.
Check out last year's printed program by clicking here.
2017 Event details:
Congregational Hymns: Once in royal David's City (Irby, descant Halley); O come all ye faithful (Adeste Fideles, descant Willcocks)
Carols by the Choir:
Bednall: Allelya, a new work has come on hand
Warlock: Adam lay ybounden
Rutti: I wonder as I wander
Pearsall: In dulci jubilo
Britten: There is no rose
Conte: Ave Maria
Rutter: Away in a manger
Sweelinck: Hodie, Christus natus est
Mendelssohn: There shall a star
Todd: My Lord has come
Check out previous year's Lessons and Carols:  2016  2015   2014