St. John's Episcopal Church
679 Farmington Avenue, West Hartford, CT 06119
An amazing start to the Advent season – arrive early to get a good seat! In the tradition of King's College, Cambridge, prepare your soul for the Christmas miracle with carols for choir and organ. This event is a long-standing tradition at St. John's – a "must" to center your soul during the Advent season. Sunday, December 15 at 3:00pm.
The St. John's Adult and Youth Choirs; Scott Lamlein, choirmaster; Floyd Higgins, organist
This concert is free admission, with donations received, no tickets required. A reception follows in the church hall.
Click here for the PDF leaflet.
Carols sung by the choir:
MATHIAS: Sir Christémas
POSTON: Jesus Christ, the apple tree
GARDINER: Tomorrow shall be my dancing day
ROREM: While all things were in quiet silence
STOPFORD: There is no rose of such virtue
BRITTEN: A hymn to the virgin
WILLCOCKS arr.: Rocking carol
PRAETORIUS: Quempas carol
WILLAN: The three kings
RUTTER: What sweeter music
Carols for all:
Once in royal David's city (Irby)
O come all ye faithful (Adeste fideles)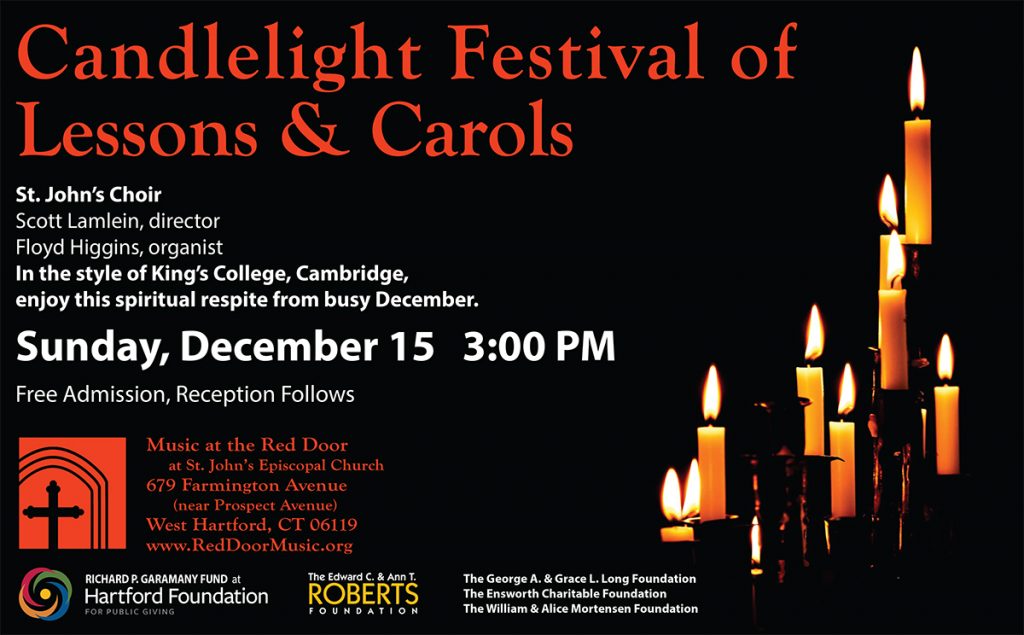 Music at the Red Door is supported in part by the Richard P. Garmany Fund of the Hartford Foundation for Public Giving, the Edward C. & Ann T. Roberts Foundation, the George A. & Grace L. Long Foundation, the Ensworth Charitable Foundation, the William & Alice Mortensen Foundation, and the Marjorie Jolidon Fund of the Greater Hartford Chapter, American Guild of Organists. 
Check out previous year's Lessons and Carols:  2018 2017 2016  2015 2014