St. John's Episcopal Church
679 Farmington Avenue, West Hartford, CT 06119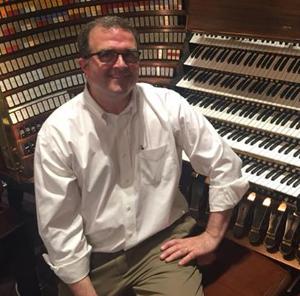 The Pipes Alive! series continues with Floyd Higgins playing the St. John's organ on Sunday, May 1, 2022, at 12:30pm. 
The concert is free admission, suggested donation $20. Checks payable to Music at the Red Door or click here to donate online.
Registration to attend in person is encouraged.
Please do not register to watch online – click on the link below to watch.

COVID 19: Masks are optional at St. John's. We encourage anyone who is unvaccinated or who is more comfortable wearing a mask to continue to do so.
Learn more about St. John's famed Austin pipe organ.
Click below to watch. Click here for full program pdf.

Program:
Sonata in D Major, first movement – Henry Purcell (1659-1695)
Sheep may safely graze from Cantata 208 – Johann Sebastian Bach (1685-1750)
Intermezzo from Cavalleria Rusticana – Pietro Mascagni (1863-1945)
American Hymn – Carl Strommen (b. 1939)
Fantasy No. 1 in E Flat Major – Camille Saint-Saëns (1835-1921)
Nimrod from Enigma Variations, Op. 36: IX – Edward Elgar (1857-1934)
Sonata in D Major, final movement – Henry Purcell
Larry Gareau, trumpet
About the Artist:
Floyd is a long-time friend of St. John's, and Co-Music Director at Sacred Heart Church, Suffield. He is head of the design team at Austin Organs, Inc., in Hartford. He previously worked for Austin Organs from 1988–1996 directly with President Don Austin and Vice President Fred Mitchell.
Floyd graduated from Trinity College where he studied organ with John Rose, and from Yale University as a student of Thomas Murray.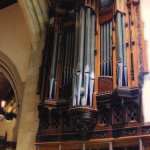 Join us for half-hour organ concerts featuring St. John's magnificent Austin pipe organ, on the first Sunday of the month, November through June, 12:30 p.m. with regional organists. Free!
Music at the Red Door is supported in part by the Richard P. Garmany Fund of the Hartford Foundation for Public Giving, the Edward C. & Ann T. Roberts Foundation, the George A. & Grace L. Long Foundation, the Ensworth Charitable Foundation, the William & Alice Mortensen Foundation, and the Marjorie Jolidon Fund of the Greater Hartford Chapter, American Guild of Organists.