St. John's Episcopal Church
679 Farmington Avenue, West Hartford, CT 06119
We welcome concert organist Simon Johnson to the mighty St. John's pipe organ on Friday, February 21 at 7:30pm. Mr. Johnson is organist at St. Paul's Cathedral, London.
This concert is free admission, no tickets required. Suggested donation: $20 Checks payable to Music at the Red Door.
A reception follows in the church hall. 
This concert is co-sponsored by the Greater Hartford Chapter, American Guild of Organists.
Music at the Red Door is supported in part by the Richard P. Garmany Fund of the Hartford Foundation for Public Giving, the Edward C. & Ann T. Roberts Foundation, the George A. & Grace L. Long Foundation, the Ensworth Charitable Foundation, the William & Alice Mortensen Foundation, and the Marjorie Jolidon Fund of the Greater Hartford Chapter, American Guild of Organists.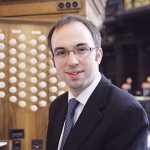 Simon Johnson is one of the most versatile musicians of his generation, successfully combining life as a virtuoso organist with extensive work in choral direction, composition and arrangement.
As the Organist and Assistant Director of Music at St Paul's Cathedral, he has been involved in all the national occasions that have taken place there since his appointment in 2008, including the funeral service of Baroness Thatcher, the Diamond Jubilee of Her Majesty the Queen and Her Majesty's 90th  Birthday celebrations, for which he also arranged some of the music.
Recitals have taken him all over Europe and the USA, as well as to many of the premier venues in the UK, including the Royal Festival Hall in 2017.  He has performed with groups such as the LSO, RPO, and The Sixteen and worked with Wes Anderson on the Oscar, Bafta and Grammy award-winning soundtrack for The Grand Budapest Hotel.
As a director he became well-known through his work with the St Albans Abbey Girls' Choir.  He has led the St Paul's choirs in many full-scale orchestral performances.