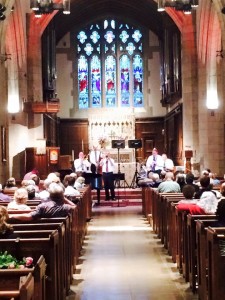 Dear Friends,
This past Friday, we completed our fourth season of Sacred Music at the Red Door in grand style, with a tremendous toe-tapping performance by the Hot Cat Jazz Band! It was a great celebration of the past year, where we reached scores of people with the great gift of music.
And now, we're off and running with a full set of concerts for 2015-2016! I'd like to invite you to be part of our exciting new season. Check out our updated website for a full listing of events.
Sacred Music at the Red Door is a unique way to transform lives in the Greater Hartford community:
I thank you in advance for your generous donation to this exciting program. Please click here either to pledge or give today, and don't hesitate to be in touch with me directly with your questions or comments about our music ministry.